"Norm Geisler: Not Qualified" FREE Global Movie Premiere, Red Carpet and Q&A
About this event
Don't miss the powerful life story of the late Norm Geisler, who rose from poverty and illiteracy to change the direction of evangelical Christianity! This movie features over 50 Christian leaders who were taught, mentored, or influenced by the late Norm Geisler, including:
Josh McDowell
Tony Evans
J. Warner Wallace
Andy Stanley
Frank Turek
Ron Rhodes
John Ankerberg
Kerby Anderson
JP Moreland
Hugh Ross
Ed Hindson
Raul Ries
Greg Koukl
Richard G Howe
and many more!
Official Red Carpet, Global Premiere, and Q&A Session June 13th, 2021 at Calvary Church, Charlotte, North Carolina!
Doors will open one hour prior to Movie Screening. Q&A session will immediately follow, with interviewees Frank Turek, Derwin Gray, Bill Roach, Stephen Cutchins, Christina Lee, and Richard G Howe, moderated by Norm's son, David Geisler. Formal attire is suggested.
Event Schedule:
6:00pm Doors Open
7:00pm Movie Screening
8:00pm Q&A
*Registration is required. Last day to register is May 31st, 2021.
Follow Norm's story to see how God can work through us to change history, even when we feel "not qualified."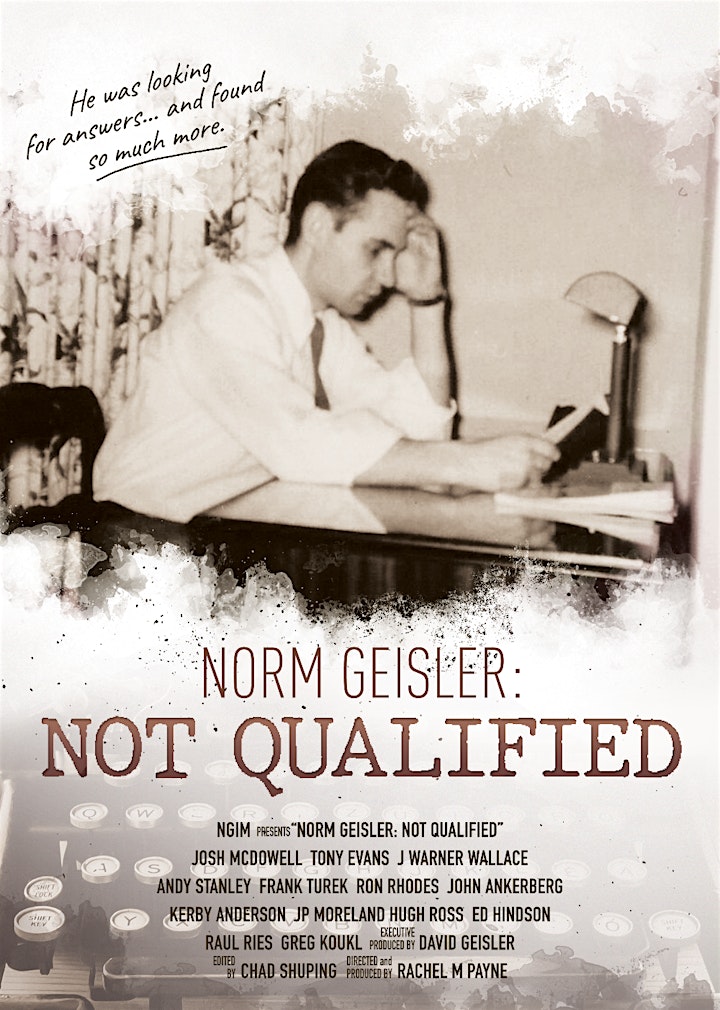 He was looking for answers...
and found so much more.
When an illiterate farm boy starts asking why Christianity is true, no one seems to have answers. After a twenty-year search for the foundations of his faith, he finds more than he ever expected...
Paving the way for generations, Norm writes over a hundred books, debates top academic experts, and founds organizations to begin influencing the culture for Christ.
From poverty and illiteracy, to becoming the premiere Christian apologist of the 20th century, Norm's story shows how God can work through us to change history, even when we feel "not qualified."
"God may have a greater purpose for this movie than we realize," says David Geisler, who narrates the film. "This movie is being released at a pivotal moment in our time, where the evangelical church is looking for leadership of a certain kind. It will change history if we as Christians take seriously what my father left us, and also what he warned us."
IN THE PRESS: