About this Event
Get your tickets now! Last year's success Nordic Women in Technology and Innovation is back on September 26th. Join us in Palo Alto for an inspirational event and listen to a group of accomplished Nordic women and their journey in Silicon Valley's competitive Tech Industry.
Our speakers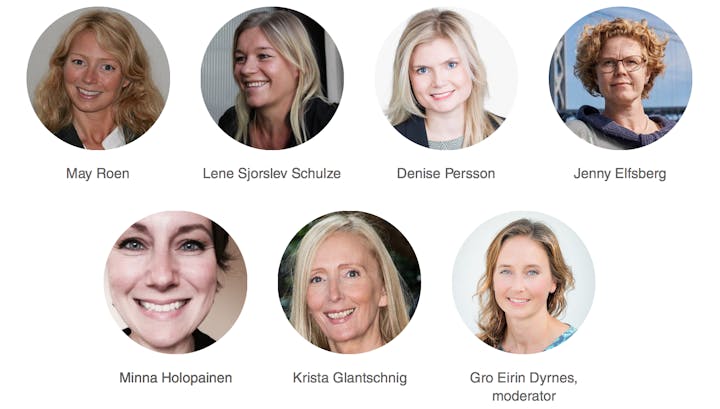 May Roen, CFO at Lookback and Co-Fonder at Pathogenomix
Lene Sjorslev Schulze, Head of US Operations and Business Development, BLUETOWN
Denise Persson, CMO at Snowflake
Jenny Elfsberg, Director Innovation Lab US Hub at Volvo Group Connected Solutions
Minna Holopainen, Vice President of Communication at Axiado
Krista Glantschnig, Head of GTM Strategy, Solution management, Product marketing at SAP
Moderator: Gro Dyrnes, Regional Director Americas & Director Innovation Norway San Francisco & Silicon Valley
Get inspired and take the opportunity to network
Come and hear their stories and gather strategic insight that can help you in your own career. All of our speakers have amazing stories to share and under the moderation of Gro Dyrnes we will discover their different journeys. How do their stories differ and what do they have in common? What have they learned along the way? This will be an excellent opportunity to learn about:
• Successes and entrepreneurial challenges
• Outlook for women in the U.S. and abroad
• Anticipated changes in the near future
During the event there will also be plenty of time to network with fellows and to visit our exhibitors and partners. Come early to get the most out of this opportunity to connect with the local and Nordic network.
When and where
Date: Thursday, September 26
Time: 5.30–8.30 p.m. (Mingle with drinks and food from 5:30, program starts at 6:30)
Location: Palo Alto Art Center Auditorium
Address: 1313 Newell Road, Palo Alto, CA 94303
Reserve your spot to this exciting event today!
Hosts
This inspirational event is brought to you by Nordic Innovation House – Silicon Valley and SWEA Professional (Swedish Women's Educational Association). Read more about the Nordic organizations hosting this event: