Event Information
Location
Copenhagen airport
Lufthavnsboulevarden 6, 2770 Kastrup
Copenhagen
Denmark
Description
Programme forthcomming.
Why this Conference?
The aviation industry aims to stabilise CO2 emissions at 2020 levels and requiring airlines to offset the growth of their emissions after 2020. One of the measures required is increasing the use of sustainable jet fuel. Development, production and supply of sustainable jet fuel involves many sectors and actors. There is a need to think across both ministries, business models and national borders. Being in forefront of these developments will attract investment, create clean technology solutions and new jobs.
Nordic Energy Research (NER) together with the Nordic Initiative for Sustainable Aviation (NISA) will host this conference that will consider key recommendations from stakeholders in-order-to explore how various initiatives and policy frameworks can enable increased use of sustainable jet fuel in the aviation sector. The conference will involve all stakeholders in the aviation industry and aviation fuel suppliers as well as civil society organisations, national authorities and ministers responsible for energy and/or aviation.
Envisaged outcome:
To seek an agreement on tangible ways to promote uptake of sustainable jet fuel in the Nordic countries and possible offer examples for other regions and countries to follow.
Key recommendations to be considered:
Include aviation in National Energy Plans for EU (winter package) /RED 2 (and EFTA-countries)

Encourage corporate, private and public use of sustainable jet fuels (a Nordic Fly Green Fund?)

Include sustainable jet fuel in public procurement with sustainability criteria (military (fuel) and public entities (flights)

Explore opportunities public-private partnerships to establish fund, grant, pilot/demo plants

Develop Nordic joint tender process for sustainable jet fuels
Updates and programme will be posted at:
http://www.nordicenergy.org/event/nordic-leadership-in-aviation-emissions-reductions/
For further information, please contact:
Svend Søyland, Nordic Energy Research svend.soyland@nordicenergy.org
or
Martin Porsgaard, NISA map@cleancluster.dk
Related publication (2016):
Sustainable jet fuel for aviation – Nordic perspectives on the use of advanced sustainable jet fuel for aviation
Link: http://www.nordicenergy.org/wp-content/uploads/2016/09/FULLTEXT_Sustainable_Jet_Fuel_for_Aviation.pdf

Organisers: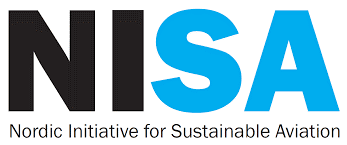 Date and Time
Location
Copenhagen airport
Lufthavnsboulevarden 6, 2770 Kastrup
Copenhagen
Denmark