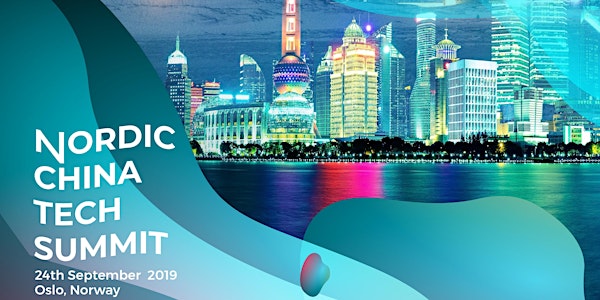 Nordic China Tech Summit, Oslo Innovation Week
Location
Mesh
3 Tordenskiolds gate
0160 Sentrum
Norway
NCSF and CPN , 2019 OIW event organizers, co-hosting the one-day event: Nordic China Tech Summit, 24 Sept. in Oslo, as a part of OIW
About this event
Event Introduction
This autumn, Nordic-China Tech Summit will bring together business leaders from Norway and China for a one-day summit during Oslo Innovation Week on September 24th, 2019 at Mesh.
Amongst others, Ant Financials – An Alibaba Group company - world's largest Fintech company, and DJI –world's leading consumer drone manufacturer are coming!
The summit will focus on Fintech and industrial digital innovation across multiple industries. The exciting programme includes keynote speeches and panel discussions from business leaders, as well as start-up pitches in front of Nordic and Chinese VC's. Come and join us!
Please read more at the official website
*** Please contact us for group discount and student discount. ***
Some of the companies that will present:
Ant Financial – Ant Financial Services Group is an affiliate company of the Chinese Alibaba Group. Ant Financials operates Alipay, the world's largest mobile and online payments platform and is one of the highest valued fintech companies in the world, with a valuation of US$150 billion.  In 2018, Vipps, ePassi and Alipay have announced a partnership.
DNB: DNB is Norway's largest financial services group. The bank operates the largest Internet bank with more than 1.3 million users and mobile banking service with 850 000 users in Norway.
The Group offers a full range of financial services, including loans, savings, advisory services, insurance and pension products for retail and corporate customers.
DJI – Founded in 2006, the Shenzhen based company has grown to a global enterprise with 14,000 employees and 17 offices internationally and commands 70 percent of the global commercial and consumer drone market.
Tomra: A Norwegian multinational corporation active in the field of instrumentation for recycling solutions. The company is the largest Reverse Vending Machine provider globally and a leading provider of sensor-based sorting solutions for the food, recycling and mining industries.
Please read detailed program and speaker profile at the official website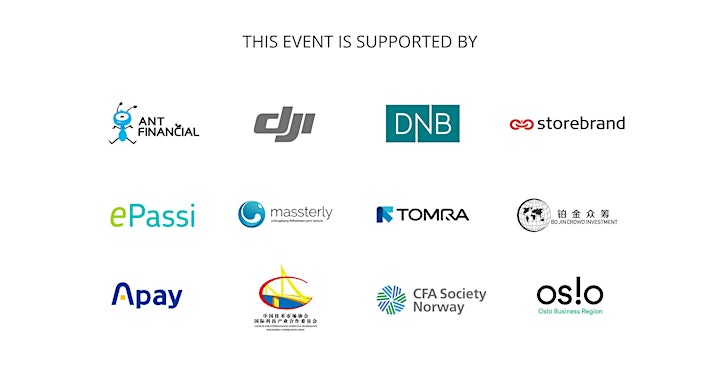 Program:
You may choose to participate in both or just one of the sessions.
Fintech Session (8:30 – 12:15)
08:30-9:00 Registration
09:00-09:10 Opening Speech, Ambassador Yi Xianliang, Embassy of the People's Republic of China in the Kingdom of Norway
09:10-09:20 Opening Speech , Marthe Scharning Lund, Vice Mayor for Business Development and Public Ownership in the City of Oslo
09:20-09:30 Opening Speech, Thomas Hansteen, Special Advisor, The Research Council of Norway
09:30-10:00 Speech 1: Equal opportunities for the world
Jim Jin, Business Development Advisor, Alipay Europe
10:00-10:25 Speech 2: Mobile payment and cashless transformation
Niklas Löfgren, Director Of International Operations at ePassi Payments Oy
10:25-10:40 Coffee Break
10:40-11:05 Speech 3: Corporate Innovation: Solving customer problems in a small market
Gustav Gorecki, Chief Innovation Officer, Storebrand
11:05-11:30 Speech 4: The Future of Banking
Wasim Rashid, EVP, Head of Platforms, DNB
11:55-12:10 Q & A
12:10-12:15 End of Session
*( Lunch is offered for full day participants)
*** Please contact us for group discount and student discount. ***
Industrial Digital Innovation Session (12:30 – 17:00)
12:30-13:00 Registration
13:00-13:30 Opening Speech
13:30-13:55 Speech 1: "How to Become a Leading Pioneer in Technology"
Dr. Barbara Stelzner, Director Marketing and Communication, DJI Europe
13:55-14:20 Speech 2: "How Norway Paves the Way for Sustainable Shipping Globally"
Pia Meling, VP Sales & Marketing, Massterly
14:20-14:45 Speech 3: "Rethink Redeem Recycle"
Ole Th. Aleksander Mortense, Head of TCS Digital & Communication, TOMRA
14:45-15:00 Coffee Break
15:00-15:20 Speech 4: "Chinese Consumer Behavior in Digital Age"
Jie Zhang, CEO of Godigital China
15:20-15:30 Speech 5: Keynote Speech by Nordic-China VC, Nordic Apiary
Kristoffer Lundegren, Managing Partner, Nordic Apiary
15:30-16:20 Startup Pitching Contest
16:20-16:30 Winner Announcement
16:30-17:00 Panel Discussion: Bridging Nordics and China Opportunities. Is it good timing to entering China?
- Kristoffer Lundegren, Managing Partner, Nordic Apiary
- Yngve Kristiansen, Founding Partner, Fidem Capital Partners
- Leon Ge, Principal, Partech
- Moderator: Andy Chen, CEO of Weorder, Venture Partner, Vectr Ventures
17:00-18:00 End of Session & Networking
*** Please contact us for group discount and student discount. ***
The event is hosted by 1) Chinese Professionals in Norway (CPN), the largest Chinese professional community in Norway. CPN aims at promoting collaboration between China and Norway in the fields of science, technology and business, and 2) Nordic-China Startup Forum (NCSF), a non-profit, community-run organization led by Nordic and Chinese students & entrepreneurs, is one of the biggest innovation communities between Nordics and China.