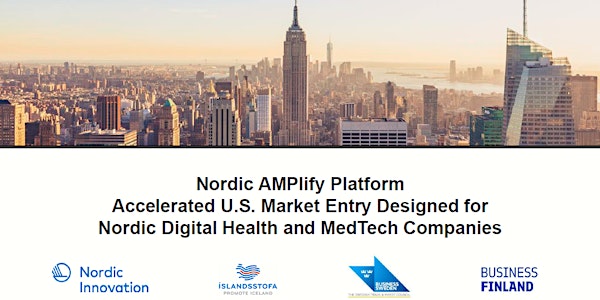 Nordic AMPlify: Accelerated U.S. Market Entry for​ Nordic Companies
Accelerate and Enhance Your U.S. Healthcare Market Entry by Partnering with U.S. Champions!
About this event
Nordic AMPlify offers Swedish, Icelandic, and Finnish digital health and med-tech companies the opportunity to significantly shorten their time to market by partnering with five U.S. health systems with over 80 hospitals and five leading early stage VCs.
Sponsored by Nordic Innovation and managed by Business Sweden, Promote Iceland, and Business Finland, this cross Nordic collaboration presents companies with a unique opportunity to significantly shorten time to market through real-time evaluation, mentoring, piloting, and co-development potential.
We invite you to join us for this free, virtual Launch Workshop. During this webinar workshop, U.S. investors and healthcare leaders will present an insider's perspective on current opportunities in U.S. healthcare and cover essential topics on market entry.
This workshop will prepare and qualify you to apply for the US Discovery Tour, a week-long tour to receive real -time feedback from clinicians and Innovation Officers from Wake Forest Memorial Health System, Atrium Health, Novant Health, and Cone Health in Winston-Salem, North Carolina along with partners from Dioko Ventures, RQR Partners, and other VCs.
Do not miss this unique opportunity to grow your company and shave 2 years off your U.S. market entry!
Registration for this event will close on May 21st at 12:00 PM EST.
Webinar Sessions:
8:00 - 8:20: Welcome and Program Overview
8:25 - 8:45: De-mystifying US Healthcare to Prevent Failure: Where Market Knowledge and Healthcare Meet
8:45 - 9:30: The Evolution of U.S. Digital Health: Case Studies and Business Models that Work
9:30 - 10:00: Regulatory, Reimbursement & Privacy: Pre and Post-COVID-19 Critical Factors
10:00 - 10:10: Break and Q&A
10:15 - 10:45: Reimbursement and Entry Strategies for Startups: How and When to Plan and Act
10:45 - 11:35: Fire Side Chat – What VCs Need to See & Hear: What Happens Before Term Sheets & Why
11:35 - 11:45: Nordic AMPlify Program Value and How to Apply – Q&A
11:45 - 12:00: Closing Comments
Webinar Times:
Iceland: 12:00 - 16:00 GMT
Sweden: 14:00 - 18:00 CET
Finland: 15:00 - 19:00 EET
United States: 8:00 - 12:00 EST