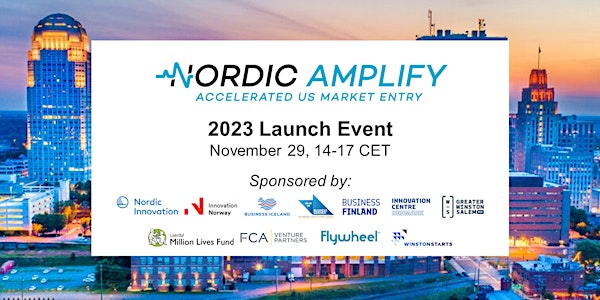 Nordic AMPlify 2023 Launch Event: Accelerated US Market Entry
Accelerate your US market entry with this unique and competitive opportunity to partner with leading US healthcare stakeholders!
About this event
Nordic AMPlify's 2023 Program offers Swedish, Icelandic, Finnish, Norwegian, and Danish digital health and medtech companies the opportunity to significantly shorten their time to market with exposure to 4 US health systems representing 1,300+ healthcare facilities and 5 leading early-stage VCs.
Sponsored by Nordic Innovation and managed by Business Sweden, Business Iceland, Business Finland, Innovation Norway, and Innovation Centre Denmark, this cross-Nordic collaboration presents companies with a unique opportunity to significantly shorten time to market through real-time evaluation, mentoring, piloting, and co-development potential.
We invite you to join us for this free, virtual Launch Event. During this webinar, US investors and healthcare leaders will present an insider's perspective on current opportunities in US healthcare and cover essential topics on market entry and value proposition.
This workshop will prepare and qualify you to apply for the program. The Nordic AMPlify program concludes with the US Discovery Tour, a week-long tour in Winston-Salem, North Carolina, to receive real-time feedback from clinicians and Innovation Officers from health systems such as Atrium Health Wake Forest Baptist, Novant Health, WakeMed Health and Hospitals, and Cone Health, along with partners from FCA Venture Partners, RQR Partners, and other VCs.
Do not miss this unique opportunity to grow your company and shave 2 years off your US market entry! Nordic medtech, digital health, AI, and SaaS startups and scaleups are encouraged to sign up.
Webinar topics will include:
Introduction to Nordic AMPlify and Winston-Salem, North Carolina
Demystifying US Healthcare
VC Panel: Product-market fit in the US
Dr. Jonathan Gertler, Managing Director, Bioventure Medtech Fund, Founder Back Bay Life Science Advisors
Robert Garber, Partner, 7 Wire Ventures
Leslie Henshaw, Partner ,Deerfield Management
David Heenan, Managing Director, Cone Health Ventures
Jim Sargent, Managing Partner, RQR Partners
Co-development with US healthcare systems 101
Casey Granack, Manager Innovations at WakeMed
Paula Kranz, Executive Director Innovation, Novant Health
Dr. Eric Kirkendall, Director of Digital Health Innovation, Wake Forest Center for Healthcare Innovation
Dr. Bill Satterwhite, Prinicipal, Huron Consulting
Success stories from previous Nordic AMPlify participants
Nordic AMPlify 2023 program timeline and application process
Please note this event is only open to Nordic digital health and medtech companies, and not consultants.
For questions about this event, please contact your local country representative:
Sweden
Olivia at olivia.eriksson@business-sweden.se
Finland
Val at val.kratzman@businessfinland.fi
Norway
Jannik at Jannik.Grodt.Schmidt@innovationnorway.no
Iceland
Begga at bergthora.laxdal@utn.is
Denmark
Ines at ineben@um.dk
Registration for this event will close on November 29th at 2:00 PM CET.