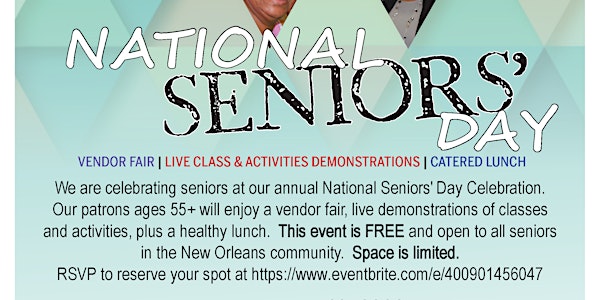 NORD National Seniors Day Celebration
National Senior Citizens Day New Orleans Event
When and where
Location
5601 Read Blvd 5601 Read Boulevard New Orleans, LA 70127
About this event
The New Orleans Recreation Development (NORD) Commission invite seniors to the 9th annual conference in celebration of National Seniors Day on Friday, Aug.19, from 10 a.m. to 1 p.m. at Joe W. Brown Rec Center, 5601 Read Blvd. This event will feature special music and dance performances, guest speakers, educational workshops, community resource tables and free catered lunch.
Every year on Aug. 21, various events and activities are held across the United States in recognition of National Senior Citizens Day. This day was created to support, honor, and show appreciation to seniors and to recognize their achievements and contributions to communities. 2022 marks NORD's ninth year celebrating National Seniors Day with a special event for seniors 55 and over in the city of New Orleans. This year, NORD will celebrate the national event on Friday, August 19 instead of the 21st, as it falls on a Sunday.
Partnering agencies for NORD's 2022 National Seniors Day event include HEAL New Orleans, NOLA Ready, New Orleans Council on Aging, New Orleans Public Library, People's Health, S.M.C.L Foundation and Associates Inc., United Healthcare, The Boyd Family Funeral Home, Oak Street Health, Catholic Charities Archdiocese New Orleans Food for Seniors, FitNOLA, NORD Aquatics, JenCare Senior Medical Center, NOBA, Central Home Health, Aetna, Keep It Moving Line Dancers, Ponchartrain Neighborhood Association, Top Box Foods, RTA, ARC GNO, VIET, Goodwill Digital Literacy, New Orleans Health Department, Lighthouse Louisiana, Delgado Community College, Spa NOLA, JOB1, Total Community Action, NORD Choir, NORD Arts, Wholesale Real Estate 4U & Networking Attorneys, The Pro Bono Project, Louisiana Department of Health Region 1, I Deserve It, and more.
For more information on National Seniors Day or NORD programs, please visit www.nordc.org or call (504) 658-3052.