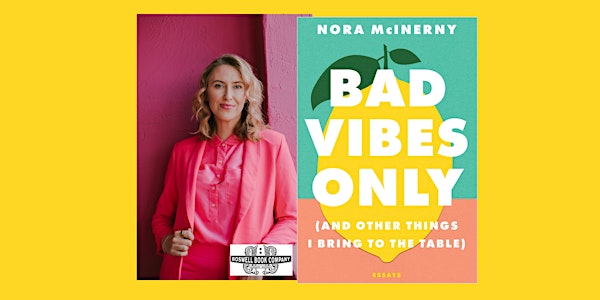 Nora McInerny, author of BAD VIBES ONLY - an in-person Boswell event
Nora McInerny, author of BAD VIBES ONLY - an in-person Boswell event
When and where
Location
Boswell Book Company 2559 North Downer Avenue Milwaukee, WI 53211
About this event
Boswell presents an evening with Nora McInerny for her latest, Bad Vibes Only: (And Other Things I Bring to the Table).
As a bestselling author and host of the beloved podcast Terrible, Thanks for Asking, Nora McInerny has captured the hearts of millions by discussing grief and loss with wit and warmth. Now, with Bad Vibes Only, she turns her eye on our aggressively, oppressively optimistic culture, our obsession with self-improvement, and what it really means to live our lives online.
In a series of essays that span her childhood to present, Nora introduces us to her world while inviting us to more closely observe our own. We meet the people that challenge, question, and make Nora reflect on her own life, habits, and personality. Bad Vibes Only is not only a response to a society that tells us to live, laugh, love - it's a reminder that in a world where we are more connected to and observed by our peers than ever before, we still deserve the freedom to be ourselves.
From Publisher's Weekly: "[McInerny's] wit, vulnerability, and self-deprecation make her an enjoyable companion. Despite the title, this is nothing but a good time."
Nora McInerny was voted Most Humorous by the Annunciation Catholic School Class of 1997. Since then, she's written the bestselling memoirs It's Okay to Laugh (Crying Is Cool Too), No Happy Endings, and The Hot Young Widows Club and Bad Moms. She hosts the award-winning podcast Terrible, Thanks for Asking, has spoken on TED's mainstage, and has contributed to publications like The New York Times, Time, and Slate. She is very tall.
Click here to purchase your copy of Bad Vibes Only. Signed copies and personalization available on pre-orders. Please note that signed copies will not be shipped until after the event.