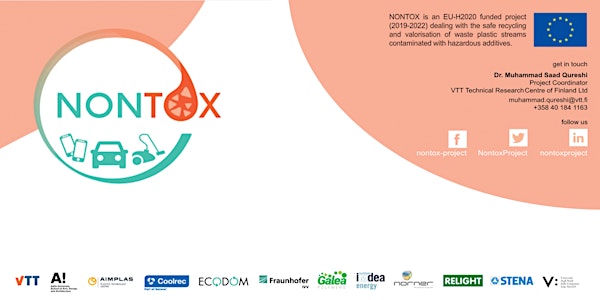 NONTOX workshop: Eco-design guidelines for plastic in WEEE, C&DW, and ELV
NONTOX project workshop to improve recycling of plastic in electronic waste, end-of-life vehicles, and construction and demolition waste
About this event
NONTOX (see nontox-project.eu) is an EU Horizon 2020 project aimed to improve recycling of plastic in electronic waste (WEEE), end-of-life vehicles (ELV), and construction and demolition waste (C&DW).
In this online workshop, we invite experts from research and industry to discuss waste stream specific eco-design considerations, to develop better criteria to guide future design action in industry and design.
We will study the existing context of plastic recycling in Europe, and work on waste stream specific challenges, most important considerations, and best solutions.
Date & time: 27.11. 13:00-15:30 (CET)
Venue: Zoom-platform (https://aalto.zoom.us/j/62412529830)
Your expert input is invaluable. Welcome to discuss recycling of plastic!