Description
Please note: This session has been postponed and will be rescheduled for a later date this fall. We apologize for any inconvenience.
To receive email notifications for this and other learning opportunities, please sign up for our Nonprofit & Small Business Trainings email list.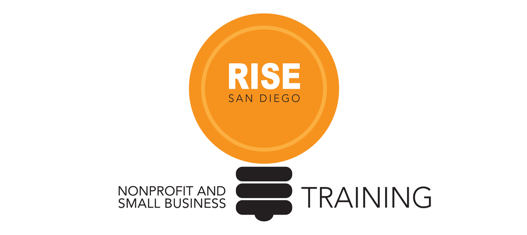 Rapid Strategic Planning for Street-Smart Executives
Join us for a free introduction to strategic planning with RISE co-founder and CEO Dwayne Crenshaw.
Strategic planning boils down to the question of "where are we going?" To answer this, organizations must know the answer to another question: "Where did we come from?"

This training will help participants understand how critical an organization's mission, vision, and value statements are in providing a clear path forward. Organization leaders will walk through a SWOT analysis to review and evaluate their organization's culture as the first step to mapping its future. From these points of understanding, participants will learn how to identify priorities for their organization and engage stakeholders in creating a strategic plan. Ultimately, this session will provide the basics on how to break down the strategic plan into measurable action steps that can be implemented throughout an organization and used for accountability.
Participants will learn how to:
Facilitate a rapid strategic planning process with board and staff

Document and report strategic planning results
Develop action plans to implement strategic planning goals
Effectively hold board and staff accountable for strategic plan success
Target audience: Our Street-Smart Executives series is designed with new, entry-level, and non-formally trained nonprofit executives, managers, and board members in mind. Mid-City and southeastern San Diego small businesses or nonprofits offering health and social services are especially encouraged to attend.

Registration is required. Seating is limited – please register today. Parking at the Joe & Vi Jacobs Center is free and the venue is accessible via public transportation from the MTS Euclid Avenue Trolley Station.
Facilitator: RISE San Diego co-founder and CEO Dwayne Crenshaw is a native San Diegan and lifelong resident of southeastern San Diego. His deep knowledge of the city's neighborhoods and his community activism, which began at the age of thirteen, are invaluable in his role as a nonprofit and community leader. Dwayne previously served as the executive director of San Diego LGBT Pride and the Coalition of Neighborhood Councils where he advanced issues of community development and social justice. Prior to his roles in nonprofit management, he had eight years of government experience as an aide to state and local elected officials, including former California Lieutenant Governor Cruz Bustamante. Dwayne graduated from San Diego State University in 1994 with a major in elementary education, completed coursework for a master's in government from California State University, Sacramento, and received his juris doctorate from California Western School of Law in 2011.

This training opportunity is made possible by the County of San Diego: