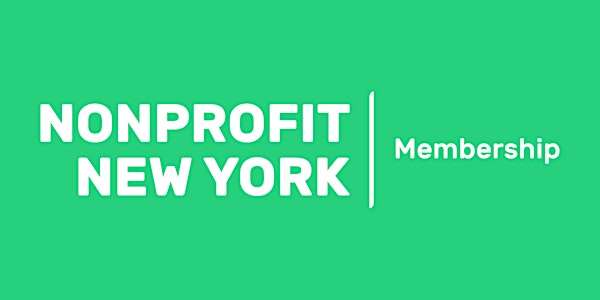 Nonprofit New York's Spring Member Orientation
We'll review all member benefits, plus provide an in-depth look at our Training webinars—great whether you're new or a long-time member.
Date and time
Thursday, April 15, 2021 · 8 - 8:30am PDT
About this event
Are you a new a member of Nonprofit New York (formerly NPCC) or long-time member who is scratching your head about what your membership can do for you?
Come to our member orientation and learn about what it means to be a member of an association and all the ways we can help you and your nonprofit thrive! Nonprofit New York has been around for 35 years and in that time we expanded the work we do to include community-building among nonprofit professionals through our events and networking opportunities, a robust cost-savings program, online and in-person trainings. Get all of your questions answered from Nonprofit New York staff.
We welcome anyone from your team who will benefit from learning about us!
This event is free and presented by Devon Stein, Programs Coordinator, with Programs Manager, Alexa Salame. Nonprofit New York member orientations are held a few times a year, so be on the lookout for the next one!
This event is intended for active members of Nonprofit New York. If you are interested in becoming a member of Nonprofit New York, please check out our website, https://www.nonprofitnewyork.org/membership/ for more information on how! 
_____________________________________________________________________________________
Registration is required. Please be advised that by registering for this event, unless we hear from you otherwise, we will include you as part of our regular mailing list. Please also be advised that the event will be recorded by Nonprofit New York. By enrolling for this event, you hereby: (1) give consent for Nonprofit New York or any third parties to use recording of you in its online and video publications; (2) release Nonprofit New York, its employees and any outside third parties from all liabilities or claims that you might assert in connection with the above-described uses; and (3) waive any right to inspect, approve or receive compensation for any materials or communications, including audio recordings, videotapes, website images or written materials, incorporating recordings of you. To revoke this waiver, please email Programs Coordinator, Devon Stein at dstein@nonprofitnewyork.org.
About the organizer
Nonprofit New York champions and strengthens nonprofits through capacity building and advocacy to cultivate a unified, just, and powerful nonprofit sector. We're building a thriving community of extraordinary nonprofits — a relentless, collective force for good. With nearly 1,200 member organizations, we've been building a powerful nonprofit community in New York for over 38 years, driven by the belief that when one nonprofit is stronger, all of us are stronger. Nonprofit New York is a 501(c)3 nonprofit membership organization based in Manhattan. Visit www.nonprofitnewyork.org for more information.