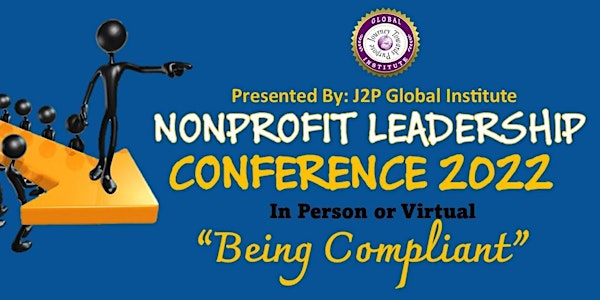 Nonprofit Leadership Conference 2022
Speaking to the unique needs of new and aspiring Nonprofit Leaders, J2PGI created the 2022 Nonprofit Leadership Conference
When and where
Location
Columbia Downtown Columbia Columbia, SC 29201
About this event
Journey Towards Purpose Global Institute (J2PGI) presents:
2022 NonProfit Leadership Conference
October 21, 2022
9:30 AM-3:30 PM
Downtown, Columbia, SC
Speaking to the unique needs of new and aspiring Nonprofit Leaders, J2PGI created the 2022 Nonprofit Leadership Conference to be a forum to give these individuals the opportunity to increase knowledge from industry leaders and gain support for other nonprofits in varying communities.
This year's conference is centered around the ever-pressing issue of COMPLIANCE. We are excited to have sharing with us on how NPOs can stay out of trouble and in Compliance with the SC Secretary of State's Charities Division. Our morning Keynote address will none other than Kim Wickersham, CMP Director for the SC Public Charities Division.
That's not all…other topics that will be covered include Being grant-ready. Positioning for growth. Board Development. Insurance. Social Enterprise. And much much more.
In-person attendance is offered as well as virtual options.