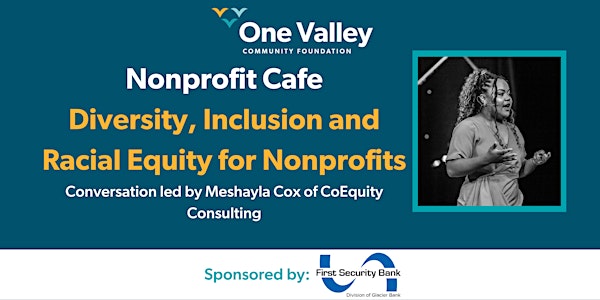 Nonprofit Cafe // Diversity, Inclusion and Racial Equity for Nonprofits
Join on December 9th for One Valley Community Foundation's next Nonprofit Cafe session on diversity, inclusion and racial equity.
About this event
Join on Friday, December 9th at 9:00 via Zoom for the December Nonprofit Cafe session.
Description:
This will be an introduction into DEI related topics and vocabulary with a specific focus on race and anti-racism as crucial pieces of your DEI work. The nonprofit sector at its core should be an anti-oppressive endeavor. It should be based in empowerment, intersectionality, and equity. It should be aware of and responsive to our history of race and racism and current context. It is crucial that organizations start with race and intersectionally view other systems of oppression within that analysis. I have found that when organizations start with a different focal point, analyses of race and racism are often overlooked and ignored. This is a major barrier to becoming more diverse, inclusive, and equitable. When organizations center race, institutional changes, big and small, can help close the gaps for the groups facing the greatest disparities and simultaneously benefit all people and communities. Focusing on race explicitly and not separately proves to be a powerful tool to create sustainable change.
Who should join:
This session will be useful for leaders within an organization who are interested in DEI but would like more language around it and more skills/understanding to help center racial equity. Any interested staff, board members and volunteers from Gallatin County nonprofits are welcome to join.
Speaker Bio:
Meshayla Cox is the founder and principal consultant of CoEquity Consulting. For nearly a decade Meshayla has been a fierce advocate for racial equity in Montana and is committed to supporting company cultures that nurture and value the inherent dignity of every person. She has educated over 1,700 people in the public and private sectors - from philanthropy & technology to conservation. Meshayla has given workshops and trainings across the nation—including as a TedX speaker.
....
If there is anything One Valley Community Foundation can do to make this session more accessible for you, please contact Jill Ellwood at jill@onevalley.org or 406-587-6262 x 20.