About this Event
The CoLab Nonprofit Boot Camp in Rosario, WA will be a hands-on learning experience with strategies that you can take back to your organization. This fast-paced, instructional camp will cover topics such as fundraising, accounting, social media and digital marketing, basics of grant writing, succession planning, and other subject matter that will aid your nonprofit strategy.
Each day, after the morning classes, you will have a chance to put what you've learned into practice with your own nonprofit plan. In the afternoon, there will be a speed lab where you can run your plan by our informed instructors to identify and fix any weaknesses. These speed labs, along with optional meetings with our instructors, will provide you with the support you need to take on the nonprofit world with boosted confidence.
If you are a founder, board member, executive director, or someone starting your own nonprofit; these classes are for you. This Boot Camp will take place on April 21st-26th at the Rosario Beach Marine Laboratory within the picturesque Puget Sound. Cost for the event is $99 and covers lodging, food, & classes.
Please note we reserve the right to refuse admittance to the program. If refused, price of the event tickets purchased will be refunded. Please wait to make travel plans until you get a second confirmation email from us.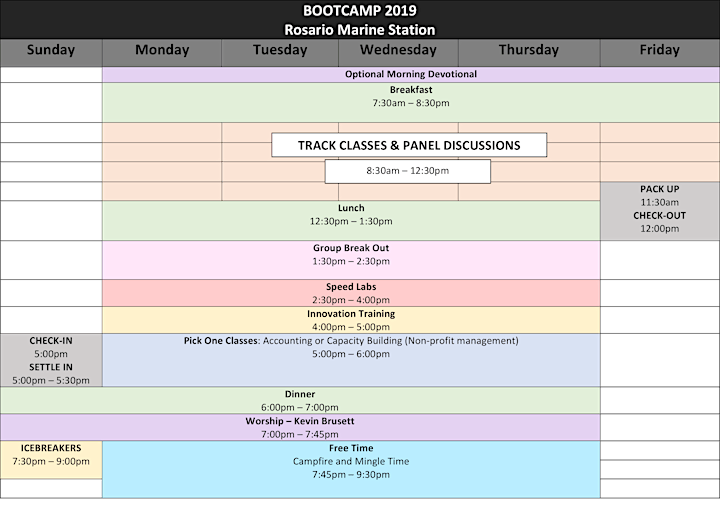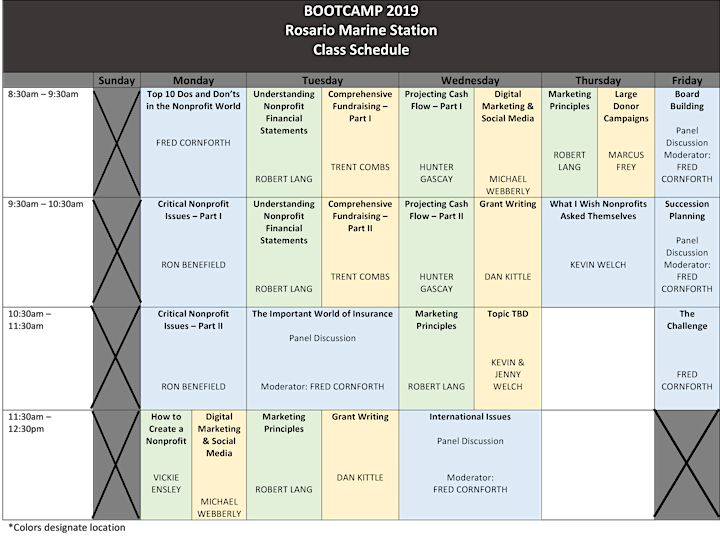 Track classes & panel discussions will include, but not be limited to:
Fundraising
Top 10 Dos and Don'ts in the Nonprofit World
Critical Nonprofit Issues
Social Media & Digital Marketing
Grant Writing
Succession Planning
Board Building
Marketing Principles
Understanding Financial Statements
How to Create a Nonprofit - The Legal Side
International Issues
Projecting Cash Flow
In addition to classes, there will be an opportunity to have our instructors look over your nonprofit business plans and help refine what you already have during Speed Labs. Having the paperwork ahead of time will help our instructors offer you greater assistance at the event. If you wish to have our instructors look at your nonprofit plan ahead of time, please compile any information and paperwork that you currently have for your nonprofit organization and email that paperwork to kaylieb@cdinet.us by March 15, 2019.
Instructor details and more information on classes to come.
Thank You To Our Sponsors ASI Northwest & Community Development, INC.