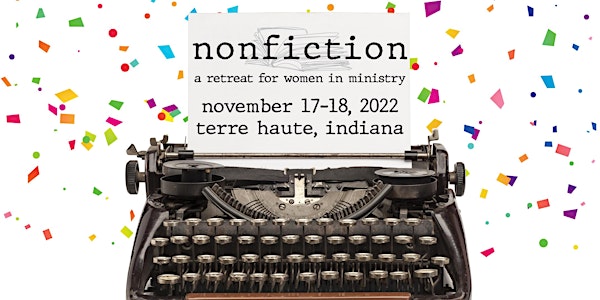 Nonfiction 2022
Nonfiction is a two-day retreat for women in ministry. Led by Melani Shock, this KQ Ministries event will be held November 17-18, 2022.
When and where
Location
New Life Fellowship 7849 Wabash Avenue Terre Haute, IN 47803
About this event
Nonfiction 22
***Update: All available spots have been filled, and registration is now closed. Thank you!
Who: Women in Ministry (ministers' wives, widows of ministers, and women ministers)
What: A two-day retreat to equip and encourage you. Confetti, coffee, and Jesus are definites. Nonfiction's format is unique and unlike conferences, services, or workshops.
When: Thursday and Friday, November 17-18, 2022, are the dates of the retreat. Both days will be packed full from 10:00 am until late each night. If possible, you will want to plan to arrive Wednesday evening to get settled and get a good night's rest so you will be ready to go Thursday morning. Check-in opens at 9:00 am Thursday, so plan to be there at 9:00 am to get signed in, then stop by the New Life Cafe to purchase breakfast and catch up with old friends before Nonfiction begins! Our sessions will end late on Friday evening, so plan to leave Saturday morning if you can.
Cost: Early bird pricing is $259 and will be available from 12 Noon EST on June 20 through July 15. After that, the price will be $279. Registration will end September 10 or when spaces are filled, whichever is sooner. No registration is available at the door.
What does registration include? Admission to all sessions, all your materials, and both lunch and dinner on Thursday and again on Friday, as well as snacks, are covered by your registration fee.
NEW! Pre-Conference Real Colors Workshop on Wednesday: As a pre-conference add-on option, we will be offering a Real Colors Communication Workshop on Wednesday, November 16, from 5:00 pm until 8:00 pm (the evening before Nonfiction begins). This event will be held at Honeysuckle Hill Bee-stro (6367 N Murphy Rd, in Brazil, Indiana, about 20 minutes from the church) and will include dinner. Real Colors teaches you the four main communication styles and how to better communicate with each type, focusing on understanding the differences between your own primary type and the other three. This information is practical and helps you improve personal relationships, work communication, and ministry effectiveness. The fee for this workshop is $49 and includes your assessment, the workshop, and dinner.
What do I wear? Dress for the entire event is casual! No heels! Dress comfortably and cozy and plan to relax. If you are from the South or West, please know that this time of year in Indiana is often quite cold, so bring plenty of warm clothes. The church is usually warm, however, so you may want to layer to adjust your comfort level as needed.
How do meals work? We will be serving lunch and dinner both Thursday and Friday as part of the schedule in order to maximize our time together. We also will give you some breaks with snacks, water, and coffee provided. (Although we are not providing breakfast, the recommended hotels include a complimentary breakfast. The New Life Cafe will also be open for breakfast each morning with specialty coffees as well as fresh-baked pastries for sale.)
Where: The event will be held in Terre Haute, Indiana, at New Life Fellowship (7849 Wabash Ave.). The church is about one hour from the Indianapolis airport.
Travel: If you are flying, plan to fly into Indianapolis International Airport (IND). We recommend you fly in Wednesday afternoon/evening so you can get settled and rest up and be ready to go Thursday morning for Nonfiction registration check-in at 9:00 am (sessions start at 10:00 am). We encourage you to check with others who are attending about the possibility of carpooling. Terre Haute is about an hour from the airport. The Indy airport does have an onsite car rental location.
Accommodations: We have special conference rates for two of the hotels in Terre Haute using the code "Nonfiction Retreat." The rates are good for check-in on Wednesday, November 16, through check-out on Saturday, November 19. (Please note: the 15% tax is mandatory even if you have tax-exempt status. This is not sales tax and is a separate tax required by law.)
What about my children? We regret that we are unable to provide childcare for this event. Due to the length of the days and the nature of the conference, it would be best for all children (with the exception of infants) to remain at home with a caregiver if possible.
Can I get a refund? We are so sorry, but we are unable to offer refunds. However, registrations can be transferred to someone else.
How will I know if there are any changes or updates? Follow us on Instagram @kqministries and on Facebook at @TerryAndMelaniShock, and be sure to check the email account associated with the address you used to register.
I have a question not answered here. Contact us at info@kqministries.net, and we will be happy to help you!