Non Union Commerical Background Actors needed for Monday May 14th 2012 ages legally 18-32

Friday, May 11, 2012 from 12:00 AM to 1:00 PM (PDT)
Event Details

All the info is below. This is a commercial filming monday, may 14th, they are looking for non union background actors ages legally 18-32 and they are offering: Copy, Credit, Meals. 
CONFIRM you will be there by  EMAILING susanjohnstoncasting@gmail.com with your cell number and a yes, you will be there, are legally 18 or older
Direcctor: MichaelLei
DATE: Monday May14th 2012
CALL TIME 8 am
LOCATION: Studio in Downtown LA. Actual address WHEN YOU CONFIRM
PARKING: FREE on site. Will provide 2nd AD's contact info.
WARDROBE
PLEASE WEAR YOUR FAVORITE CHOICE AND BRING SEVERAL OTHERS FOR WARDROBE
We request that extras come with thier own hair and make up done and dressed in business formal attire. Primarily avoiding warm colors and staying in cool colors specificallygray, charcoals, silver, blues, etc. We are looking for a modern look,slim-fitting and something with a couture feel to it. We are striving for ahigh fashion look in the video and look for a smart/clean look. For ladies wewould like to see pencil skirts, suits and/or pant suits, silver toned jewelryand high heels or pumps.  Also pleaseinstruct ladies to bring some comfortable shoes for when we are not shooting.For gentlemen, we would like to see slim fitting suits, and fine accessories -silver toned jewelry.  If there isanything that you own that fits in a modern/vintage look please also bring onset for consideration.
OFFER: Buy your www.newmediafilmfestival.com badge now thru May 15th you receive and entry to win $100 cash. Use this discount code fun by May 15th and you save 30%! Enjoy

TO UNSUBSCRIBE: button is at top, its the only way to remove your from this list for actor notices. thanks.
THANKS
Susan Johnston
Judge Daytime Emmys 2011/2012
www.NewMediaFilmFestival.com
www.SusanJohnstonCasting.com
www.DidYouKnow.LA

Organizer
Susan Johnston Casting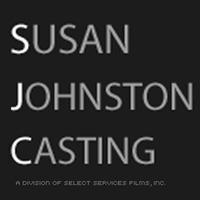 to advance actors in thier career
Non Union Commerical Background Actors needed for Monday May 14th 2012 ages legally 18-32