Description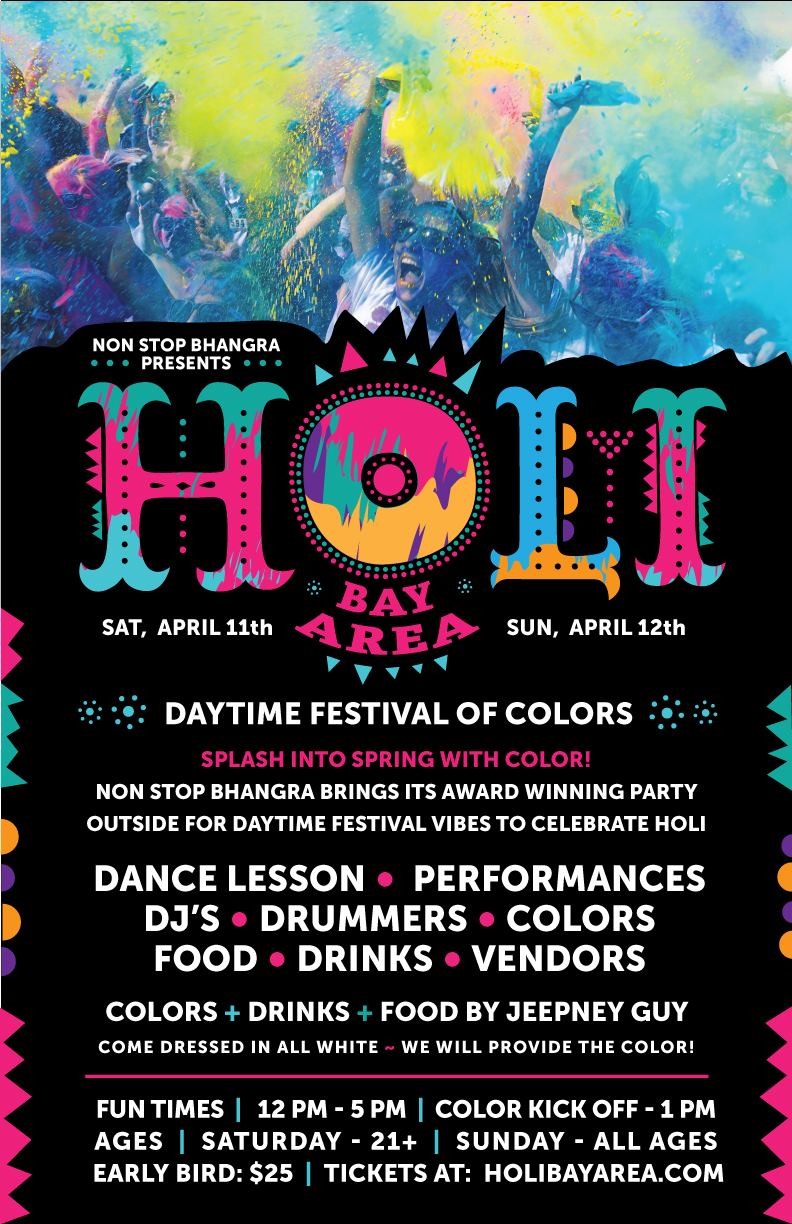 Non Stop Bhangra #155
Holi Celebration-Festival of Colors
strictly 21+ (id's required)

Saturday, April 11th
1255 7th Street, Oakland

Time: 12:00pm-5:00pm
Dance Lesson + Performances: 1:00pm

Cover:
$25 Early Bird | $30 General | $35 Door
**please note: No Refunds

NON STOP BHANGRA DAYTIME HOLI PARTY (FESTIVAL OF COLORS)
Ever wanted to be immersed in endless color while dancing your hearts out?! Non Stop Bhangra brings its award winning production outdoors for one of a kind daytime Holi party. Known as the "festival of colors", Holi marks the arrival of spring and is one of the most fun, vibrant, and colorful Indian celebrations. What better way to welcome spring than under the open sky, doused in color, enjoying delicious food & drinks, surrounded by friends, while dancing non stop. Come in white, leave drenched in color.

Featuring dance lesson, dance performances, DJs, drummers, food truck, cocktails, colors, endless energy, and contagious beats. Imagine a scene from a Bollywood movie smack in the middle of a thumping dance floor, relentless energy, rhythm of pounding feet, contagious beats, bouncing shoulders, wall to wall smiles, and one of the most diverse crowds seen on a Bay Area dance floor.

COLORS
Colors are at the core of Holi and we got you covered. We will provide premium quality powders in range of colors that are non toxic and safe for you to play with.

SUGGESTED ATTIRE
We suggest wearing some dispensable white or light colored clothing that you don't mind getting absorbed with powders and colors. We also suggest a good pair of sun glasses to protect your eyes while playing Holi.