NON STOP BHANGRA (96)
When and where
Location
Public Works 161 Erie Street San Francisco, 94103
Description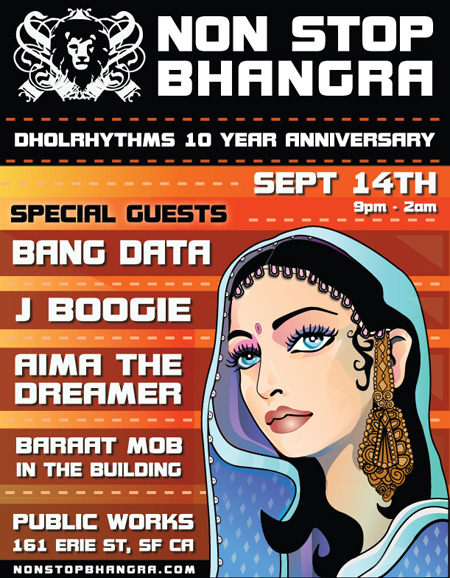 NON STOP BHANGRA #96
Dholrhythms Dance Co. 10 Year Anniversary


September 14, 2013
Public Works
161 Erie Street
San Francisco, CA

Cover:
$10 pre-sale/$15 door
***cash only bar

Time: 9:00pm-3:00am
Doors: 9:00pm
Baraat Mob(Instrumental Jamm Session Live): 9:15pm
Bhangra Dance Lesson: 10:00pm
Dholrhythms Dance Company: 10:20pm
Live Music Sets + DJ's: 10:30pm-close

Special Guests
Bang Data
Aima The Dreamer
J.Boogie

NSB Crew:
Dholrhythms Dance Company
DJ Jimmy Love
DJ Rav-E
Pavit(dhol)
Mehul(dhol)
Amar(visuals)
Odell Hussey(Photography)

Dholrhythms Dance Company Celebrates 10 Years

Co-founders and headliners of Non Stop Bhangra, Dholrhythms Dance Company celebrates a milestone of 10 years of teaching and performing in the San Francisco Bay Area. The first Non Stop Bhangra event was hosted to celebrate Dholrhythms 1 year anniversary. Since its inception, Dholrhythms has grown into a boundless and unique platform for people of diverse backgrounds to come together, express themselves, and dance in a non-competitive and positive environment.

In Celebration of this milestone, Non Stop Bhangra is mixing up the vibes this month to celebrate the SF Bay Area artistic community that Dholrhythms has been a part of for a decade. The night will bring together some of Dholrhythms favorite local creatives and collaborators to create a mashup of vibrant musical flavors from Cumbia, Reggae, to Hip-Hop mixed with the energy of Bhangra.

The night begins with the "Baraat Mob" an instrumental jamm session with live horns, and dhols drums to get people warmed up leading into an interactive, fun, jam packed Bhangra dance lesson, followed by beautiful dance performances by Dholrhythms Dance Co.

The night will continue with special guests Aima The Dreamer and Bang Data performing live for the first time at NSB at Public Works. J. Boogie(OM Records), who has been a part of Dholrhythms journey from the beginning is going to mix it up aon the turntables alongside NSB residents DJ Jimmy Love and Rav-E with Pavit & Mehul rocking the dhol drums. Beyond sound and dance, Non Stop Bhangra caters to your eyes all night with visuals by DJ Amar.

Aima The Dreamer has been rockin' crowds for years as a vocalist and MC with groups such as J-Boogie's Dubtronic Science, The Mamaz, Goddess Alchemy Project and Jazz Mafia's Brass, Bows and Beats Hip-Hop Symphony. Bang Data is formed by Bay Area's MC Deuce Eclipse on lead vocals, who's well known by hip-hop fans as an accompanying voice to the legendary Zion I and musician/producer Juan Manuel Caipo who helped propel the latin alternative music scene in the Bay Area early on in his career. Mixing Rock, Reggae, Hip-Hop & Latin beats and infusing them with a soulful bilingual (English/Spanish) delivery by Deuce Eclipse, Bang Data has created a sound that is unmistakably theirs. The group has performed with acts such as Calle 13, Ozomatli, Zion I. Their first single Bang Data from from their full length 'La Sopa' was featured on the hit AMC TV Drama Breaking Bad Episode "Salud".


This is going to one of a kind cultural mashup creating an experience only found in the Bay Area.

For those that still don't know what NSB is:
Imagine a scene from a Bollywood movie smack in the middle of a thumping nightclub---swirling colors, the rhythm of pounding feet, and the relentless energy of brilliant beats-that's Non Stop Bhangra.