Location
161 Erie Street
San Francisco, 94103
Description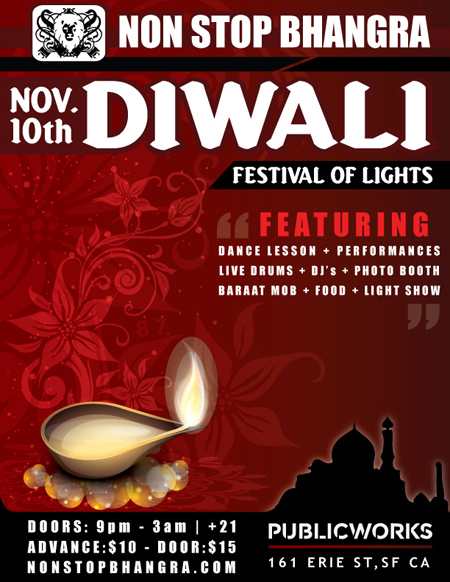 NON STOP BHANGRA #87---DIWALI CELEBRATION

SATURDAY, NOVERMBER 10TH, 2012
Public Works
161 Erie Street
San Francisco

21+
COVER:
$10 pre-sale/$15 door
***cash only bar

Attire: Indian Style recommended (not required)


Time: 9:00pm-3:00am
NSB Street Mob: 9:00pm (meet at corner of 16th Street & Valencia)
Bhangra Lesson: 9:45pm
Dholrhythms Dance Company: 10:15pm
DJ's: 10:30pm-close

LINE-UP:

Dholrhythms Dance Company
DJ Jimmy Love
DJ Rav-E
J. Boogie
Harvi Bhachu (Bol Punjab De)
Pavit Deol (Dhol)
Mehul Mistry (Dhol)
Odell Hussey (Photography)
Amar (Visuals)


Non Stop Bhangra #87---Diwali Celebration

As we wind down 2012 before heading into hibernation for December, we invite you to come celebrate the festival of lights with the Non Stop Bhangra crew for our last NSB event of the year. Diwali is known not only for the illumination of lights, but also as a time to reflect upon and celebrate the good fortune and relationships of the passing year while spreading positive energy for the coming year. What better way to celebrate such an auspicious and beautiful occasion than to share a dance or two or three with the beautiful people on the NSB dance floor. So bring a light, your smile and your most vibrant, colorful Indian style and get down with Non Stop Bhangra one last time this year!
The evening will kick off with our Baraat Mob (an Indian flash mob) in the streets leading the procession to the venue. Outside, the celebration continues with sweets, snacks and smiling faces while inside, the night hosts the famous Bhangra dance lesson leading into dance performances to get the crowd ready for what's to come. Featuring some of Northern California's top Bhangra Dj's and Dhol drummers, the night will whisk away the culturally mixed crowd into a frenzy of hands in the air and shoulders moving to the beat. The visual feast of 3 projectors across the venue walls will complete the picture as you preserve the moment and memories at the Photo Booth. Non Stop Bhangra is truly a special and unique part of San Francisco's culture which brings us all together.
A big Thank You to the SF Bay Area community for rocking out with us all year as we mark the end of a year for Non Stop Bhangra at our new home The Public Works SF. It has been quite an adventure and we look forward to many more next year when we return to The Public Works on January 12th!
------------------------------------------------------------------------------------------------------------------------------------
For those that still don't know what NSB is:
Imagine a scene from a Bollywood movie smack in the middle of a thumping nightclub---swirling colors, the rhythm of pounding feet, and the relentless energy of brilliant beats-that's Non Stop Bhangra.