About this Event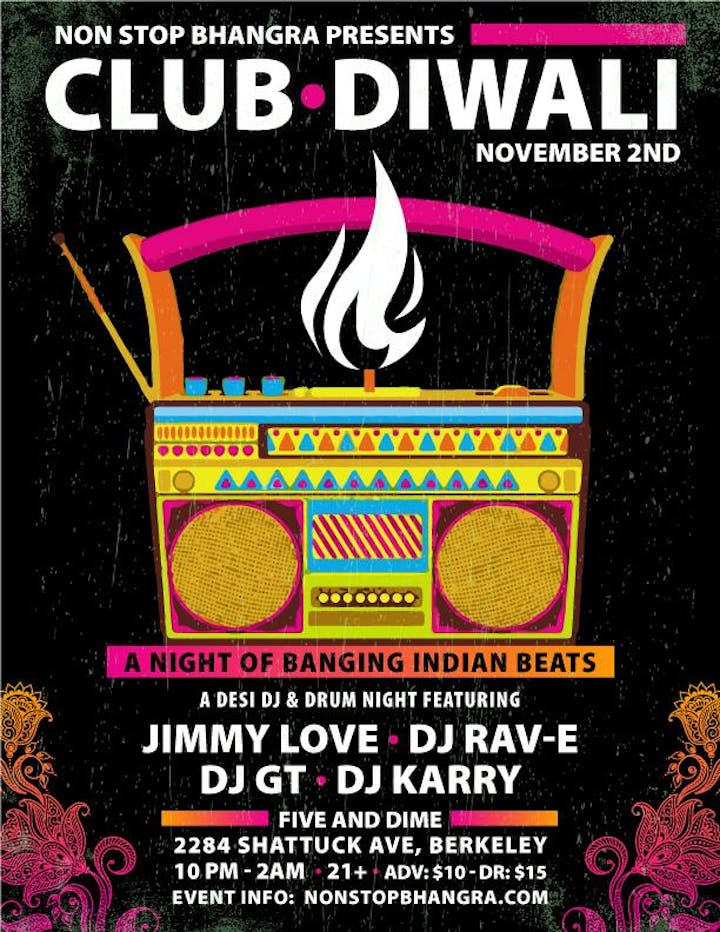 Non Stop Bhangra
Club Diwali-DJ Drum Night
Saturday, November 2nd
The Five and Dime | 2284 Shattuck Ave. | Berkeley
Time: 10:00pm-2:00am
Cover: $10 Early Bird | $15 General
**please note: No Refunds
strictly 21+ (id's required)
Non Stop Bhangra Crew:
DJ Jimmy Love | DJ Rav-E | DJ GT |
DJ Karry (Bombay Love-Bollywood)
Plus Live Dhol Drummers
NON STOP BHANGRA #152--CLUB DIWALI
Voted "Best Overall Dance Party" in the San Francisco Bay Area, Non Stop Bhangra is bringing its dancing vibes to Berkeley to celebrate Diwali-the festival of lights-one of the most widely celebrated Indian holidays around the globe. Diwali is known not only for the illumination of lights, but also as a time to reflect upon and celebrate the good fortune and relationships of the passing year while spreading positive energy for the coming year. Featuring the NSB resident crew of DJs and drummers, the night is sure to get you stirring up the dance floor with unbridled enthusiasm.
Imagine a scened from a Bollywood movie smack in the middle of a thumping night club, relentless energy, rhythm of pounding feet, contagious beats, bouncing shoulders, wall to wall smiles, and one of the most diverse crowds seen on a dance floor. So much more than a club night, Non Stop Bhangra is a treat for the eyes and ears and truly one of a kind cultural experience only found in the Bay Area. So bring your friends and come join the celebration.
DRESS THEME (optional)
On Diwali, its a tradition to wear something new, bright, and vibrant. So bring out your Bollywood glam and spice up your attire with your favorite and brightest Indian flare to support the vibe!