Description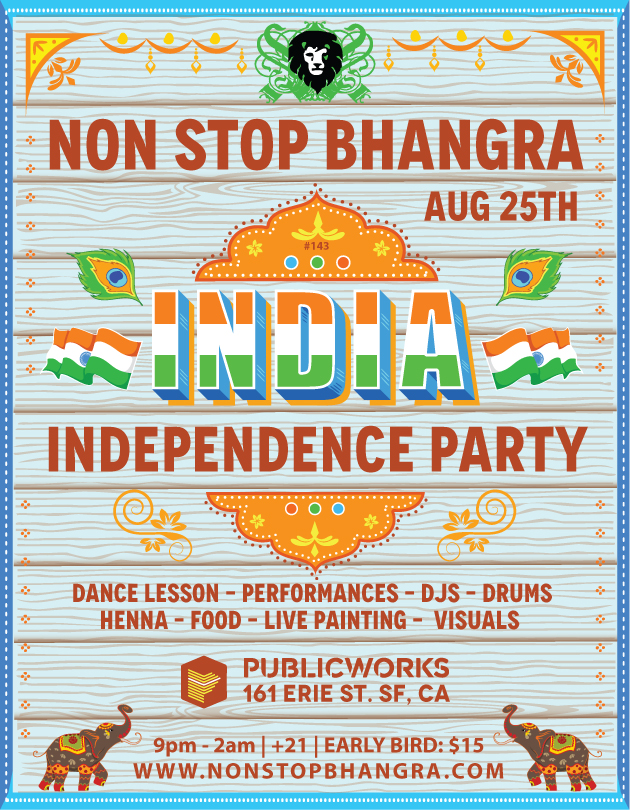 NON STOP BHANGRA #143
Take a Trip To India
Cover:
$15 Early Bird/$20 General | $25 Door
***No Refunds

Cash Bar | 21+

Time: 9:00pm-2:00am
Doors: 9:00pm
Dance lesson + Live Performances: 10:00pm

NON STOP BHANGRA #143--INDIA INDEPENDENCE DAY PARTY
Ever wanted to take a trip to India? Leave your visa at home and come join Non Stop Bhangra as we take you on a beautiful journey to experience the sounds, rhythms, colors, and flavor of India right here in San Francisco. India celebrates its Independence Day on August 15th and this month we celebrate India, a land of rich and beautiful traditions. From it's clothing and spices to it's musical and dancing depths, there are endless reasons to be drawn to the beautiful South Asian customs. This month we are celebrating the independent spirit of Indian culture, while sharing it for all of those wanting to fall in love with it anew.

Featuring dance lesson, dance performances, DJs, dancers, drummers, live singing, henna, visuals, live art, sweets, snacks, endless color, and non stop dancing. A night unlike any other and a treat for the eyes and ears, the celebratory spirit of Non Stop Bhangra will make you dance with unbridled enthusiasm and feel lie you are at one of the most joyous celebrations in India. Imagine a scene from a Bollywood movie smack in the middle of a thumping nightclub, swirling colors, bouncing shoulders, wall to wall smiles, rhythm of pounding feet, relentless energy, and brilliant beats.

So bring out your inner Bollywood glam and come dressed in your favorited Indian inspired attire and support the vibe!

---
For those that still don't know what Non Stop Bhangra is:
Little glimpse of the night
Non Stop Bhangra Documentary
TedxSF Presentation

"Non Stop Bhangra captures one of the city's most vibrant, cross-cultural, and enduring parties, which features DJs and guest musicians and dancers introducing and building on worldly styles that would otherwise go relatively unexposed in the area."
-NBC Bay Area-

"Border-Boundless Night", an amazing option for those looking to mix their dance with a cocktail and actually learn something in the process"
-San Francisco Weekly -

Top 5 things to do in SF Bay Area
-New York Times-
Voted Best Dance Party in SF
Voted as one of 250 Things to do in SF before you die
7x7 Magazine
Voted Top 5 Global Events
One of the most outrageous parties in SF
Top 20 Favorite far-out dance floor destinations
One of the most inspiring on the Bay Area Dance Floor
San Francisco, Bay Guardi
Organizer of Non Stop Bhangra #143-India Independence Day Celebration
Featured every month at Public Works in San Francisco, NON STOP BHANGRA is a unique experience that celebrates the beautiful and vibrant spirit of Bhangra, a traditional Punjabi folk music and dance.
Imagine a scene from a Bollywood movie smack in the middle of a thumping night-club---swirling colors, the rhythm of pounding feet, and the relentless energy of brilliant beats-that's

NON STOP BHANGRA!
Highlighting the ancestral roots of Punjabi dance while pushing boundaries with contemporary influences, Non Stop Bhangra is a genre-busting elixir of North Indian Bhangra music and dance, mixed with reggae, hip-hop, and electronica. An ever-evolving collective of dancers, DJs, drummers, vocalists, and musicians, Non Stop Bhangra has been making Bay Area dance for almost 13 years and voted one of the best dance parties in San Francisco. Featuring dance lesson, dance performances, live drumming, dj sets, visuals, live art, henna, and more plus one of the most diverse crowds seen on a dance floor, Non Stop Bhangra is a treat for the eyes and ears and one of a kind experience only found in San Francisco!