Non Stop Bhangra #128-Last One Of 2016!
When and where
Location
Public Works 161 Erie Street San Francisco, CA 94103
Description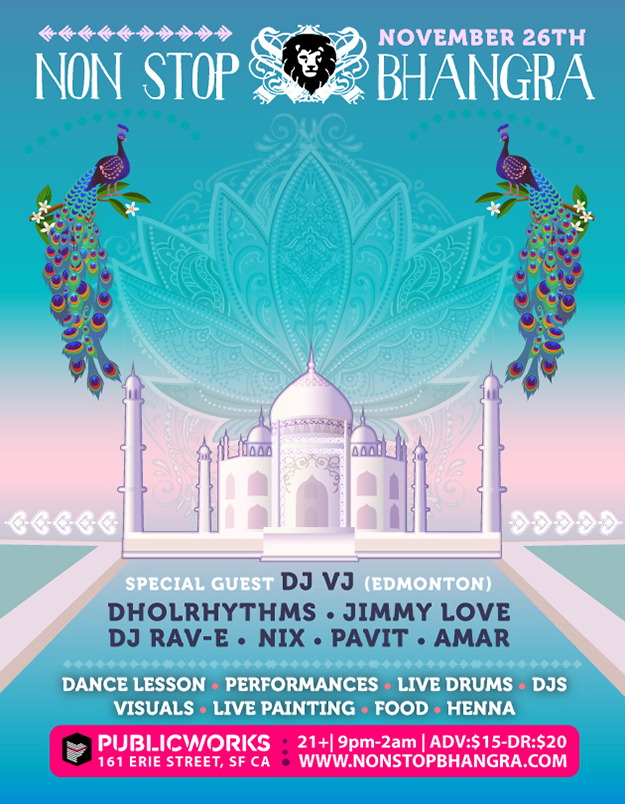 NON STOP BHANGRA #128
Post Thanksgiving Holiday Bash
Last One Of The Year

Saturday, November 26th
Public Works
161 Erie Street, SF
Cover:
$15 pre-sale/$20 door
***cash only bar

striclty 21+ (id's required)
Time: 9:00pm-2:00am
Doors: 9:00pm
Dance Lesson and Performances: 10:00pm
DJ's & Music: 11:00pm-close
Non Stop Bhangra Crew:
Dholrhythms Dance Company
DJ Jimmy Love
Rav-E
DJ Nix
Pavit Deol (Dhol)
Amar (Visuals)
Marcus Murray (Live Painting)
Odell Hussey (Photography)
Special Guest DJ:
DJ VJ (Edmonton)

Indian Street Food Booth:
Samosa Corner

Henna:
Ritual By Design
NON STOP BHANGRA #128--Post Thanksgiving Holiday Bash

Non Stop Bhangra has had an incredible year sharing music and dance with the Bay Area community. We are so grateful for all the beautiful people that have made it month in and month out to dance with us. On this thanksgiving weekend, we are throwing our own thanks giving get down. This is the last Non Stop Bhangra of the year and we can't think of a better way to close out the year than dancing with the Bay Area on the NSB dance floor. Join the NSB crew as we take you on a colorful journey with positive vibes, dancers, dj's, drummers, visauls, live art, henna, food and more! Come dance off that thanksgiving grub and get down with your family and friends while giving thanks.
As always, the festivities will continue with the ritual Bhangra dance lesson followed by dance performances by the beautiful ladies of our Dholrhythms Dance Co. On the music end we have one of our favorite guests DJ VJ joining NSB's own DJ Jimmy Love, Rav-E, and Nix on the decks alongside live Dhol Drumming by our resident dholie Pavit Deol. Beyond dance, Non Stop Bhangra caters to sight and sound with visuals/lighting by VJ Amar, live painting by Marcus Murray while NSB photographer Odell Hussey captures the experience. The fall air will be dancing to the sound of live drums filling your senses with the aroma of mehndi (henna) and yummy indian snacks provided by the Samosa Corner food booth outside all night.

Whether you are exploring a new culture for the first time or addicted to the music and its essence, this will be one night where you can get away from it all and dance the night away. So much more than just a club night, Non Stop Bhangra is a treat for the eyes and ears and truly one of a kind cultural experience only found in the Bay Area. So bring your friends and come join the celebration.

---------------------------------------------------------------------------------------------------------------------
For those that still don't know what Non Stop Bhangra is:
Little glimpse of the night
Non Stop Bhangra Documentary
TedxSF Presentation

"Non Stop Bhangra captures one of the city's most vibrant, cross-cultural, and enduring parties, which features DJs and guest musicians and dancers introducing and building on worldly styles that would otherwise go relatively unexposed in the area."
-NBC Bay Area-

"Border-Boundless Night", an amazing option for those looking to mix their dance with a cocktail and actually learn something in the process"
-San Francisco Weekly -

Top 5 things to do in SF Bay Area
-New York Times-
Voted Best Dance Party in SF
Voted as one of 250 Things to do in SF before you die
-7x7 Magazine-
Voted Top 5 Global Events
One of the most outrageous parties in SF
Top 20 Favorite far-out dance floor destinations
One of the most inspiring on the Bay Area Dance Floor
San Francisco, Bay Guardian