Location
Public Works
161 Erie Street
San Francisco, CA 94103
Sales Have Ended
Ticket sales have ended
Must present a valid ID (21+) at the door. No refunds unless the event is canceled. See you on the dance floor.
Description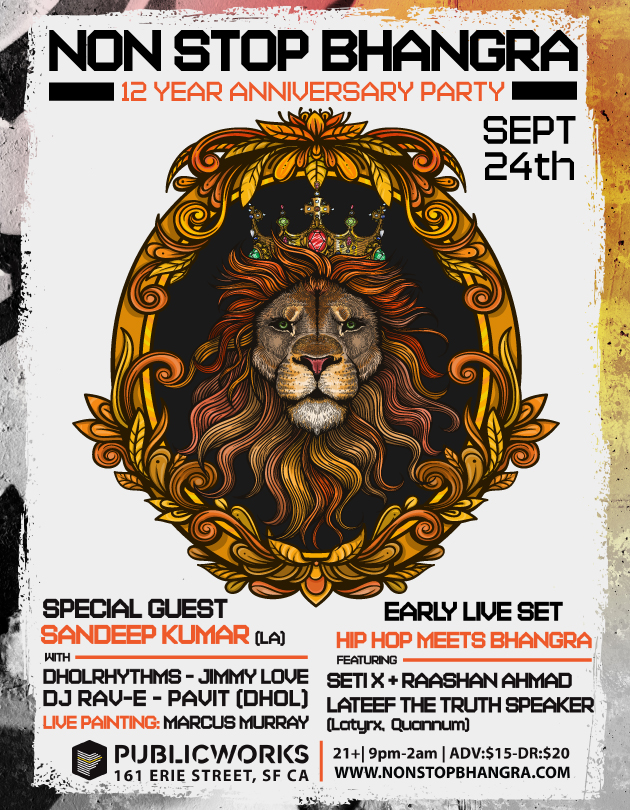 NON STOP BHANGRA 12 Year Anniversary
Hip Hop Meets Bhangra

Saturday, September 24th
Public Works
161 Erie Street, SF
Cover:
$15 pre-sale/$20 door
***cash only bar

Age:
Strictly 21+ (ID's Required)

Time: 9:00pm-2:00am
Doors: 9:00pm
Bhangra Lesson: 9:30pm
Dholrhythms Dance Company: 10:00pm
Live Hip Hop Set: 10:30pm
DJ'S: 11:00pm-close

Featuring:
Non Stop Bhangra Crew:
Dholrhythms Dance Company
DJ Jimmy Love
DJ Rav-E
Pavit (Dhol)
Marcus Murray (Live Painting)

Special Guest DJ:
Sandeep Kumar ( LA)

Live Hip Hop Set:
Seti X
Raashan Ahmad (Crown City Rockers)

with Special Guest Apperance by:
Lateef The Truthspeaker (Latyrx, Quannum Projects)

NON STOP BHANGRA 12 YEAR ANIVERSARY
This month Non Stop Bhangra is celebrating 12 Years of hosting this event in the San Francisco Bay area. What started as a one off night has turned into a staple of the nightlife in San Francisco Bay Area that has been bringing together people from all walks of life for 12 plus years.
To celebrate, we are uniting two of our favorite sounds under one roof and bringing back our favorite theme, Hip Hop meets Bhangra. It'll be a bangin night of laid back West Coast Hip-Hop laced with a heavy dose of Bhangra & Dhol beats, keeping heads bobbing and shoulders bouncing on the dance floor! NSB's own lyricist Mandeep Sethi (Seti X) will be holding down the fort and getting them musical vibrantions flowing in the building. To lift the energy, appearing for the first time at Non Stop Bhangra, we are excited to have two of our favorite Bay Area Artists, Raashan Ahmad (Crown City Rockers) joining Seti X for a special live hip hop set plus Lateef The Truthspeaker (Quannum Projects) making a special guest apperance to share some dope beats and lyrics. If you love Bay Area Hip Hop and Non Stop Bhangra vibes, you don't want to miss this night!

As always the entire Non Stop Bhangra crew will be in the house to round out the colorful night kicking off with the ritual interactive Bhangra dance lesson followed and vibrant dance performances by the beautiful Dholrhythms Dance Company. Non Stop Bhangra residents DJ Jimmy Love, and Rav-E will be on the 1's and 2's alongside one of our long time fam favorites, Sandeep Kumar (LA) who's been spinning at NSB throughout our 12 year run and always brings bangin dance floor vibes. NSB's own Pavit Deol will be spicing up the night with live dhol (drumming) all night. Beyond sound and dance, Non Stop Bhangra caters to your eyes all night with visuals plus live painting by the very talended Marcus Murray while our fabulous photographer Odell Hussey captures all the colorful energy.

Come wish us happy birthday and help us celebrate the beautiful Bay Area community & culture that has supported this monthly ritual and helped it sustain its place in the music scene. So much more than a clubnight, Non Stop Bhangra has truly turned into one of a kind a cultural experience only found in the Bay Area!


--------------------------------------------------------------------------------------------------------------

For those that still don't know what Non Stop Bhangra is:
Little glimpse of the night
Non Stop Bhangra Documentary
TedxSF Presentation
"Non Stop Bhangra captures one of the city's most vibrant, cross-cultural, and enduring parties, which features DJs and guest musicians and dancers introducing and building on worldly styles that would otherwise go relatively unexposed in the area."
-NBC Bay Area-
"Border-Boundless Night", an amazing option for those looking to mix their dance with a cocktail and actually learn something in the process"
-San Francisco Weekly -

Top 5 things to do in SF Bay Area
-New York Times-
Voted Best Dance Party in SF
Voted as one of 250 Things to do in SF before you die
-7x7 Magazine-
Voted Top 5 Global Events
One of the most outrageous parties in SF
Top 20 Favorite far-out dance floor destinations
One of the most inspiring on the Bay Area Dance Floor
-San Francisco, Bay Guardian