Description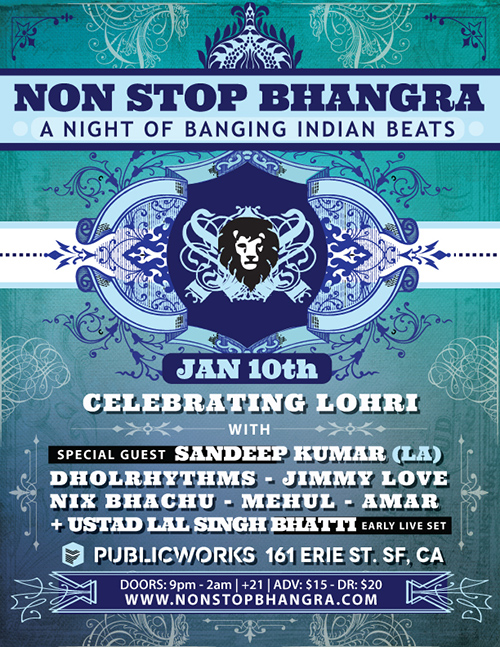 NON STOP BHANGRA #109
A New Year Celebration-Welcome 2015

Saturday, January 10th
Public Works
161 Erie Street
San Francisco
Cover:
$15 pre-sale/$20 door
***cash only bar
Strictly 21+
Time: 9:00pm-2:00am
Doors: 9:00pm
Bhangra lesson & dance performances: 10pm
Special Live Set: 10:30pm
DJ's & Music: 11pm to close

Non Stop Bhangra Crew:
Dholrhythms Dance Company
DJ Jimmy Love
DJ Mistry
Mehul (Dhol)
Amar (Visuals)
Guest DJs:
Sandeep Kumar (L.A.)
DJ Nix (Bol Punjab De)

Special Live Set (Singing & Dhol)
Ustad Lal Singh Bhatti w/
Balwinder & Ravi Bhatti

Non Stop Bhangra #109--Celebrating a New Year & Lohri - Welcome 2015
Non Stop Bhangra returns to its monthly ritual on January 10th. Come join the crew as we welcome 2015 with good music, friends, gratitude, happy vibes, and non stop dancing. A big thank you to the SF Bay Area community for rocking out with us in 2014.

Our January date falls near Lohri, an ausipicious occasion that celebrates the winter solsctice with singing and dancing to the dhol beat while dressed in your brightest clothes.

As always the nights journey will begin with an interactive, fun, Bhangra dance lesson followed with vibrant dance performances by the beautiful Dholrhythms Dance Company. The journey will continue with a special live set (singing & dhol) by Ustad Lal Singh Bhatti known as the "Godfather of Dhol". With over 40 years of mastering the art, he is the master/teacher of all the dhol players around. He is legendary in the world of Punjabi Folk music. It is always our pleasure to present his energy on the NSB stage, especially to kick off a new year.

On the decks this month, Non Stop Bhangra's own DJ Jimmy Love and DJ Mistry will be joined by DJ Nix (Bol Punjab De) and special guest DJ Sandeep Kumar (LA) with live Dhol in the mix to spice things up. Beyond sound and dance, Non Stop Bhangra caters to your eyes all night with visuals by DJ Amar.

If you have never made it out to a Non Stop Bhangra event, come kick off the new year with us and experience a one of a kind night featuring vibrant music, performances, live drumming, and one of the most eclectic crowds seen on a dance floor. So much more than just a club night, Non Stop Bhangra has truly turned into one of a kind cultural experience only found in the Bay Area.

Color Theme:
Blue! Join the crew and support the vibe by wearing your favorite shade of blue!

-------------------------------------------------------------------------------------------------------------------------
For those that still don't know what Non Stop Bhangra is:
Little glimpse of the night
Non Stop Bhangra Documentary
TedxSF Presentation
"Non Stop Bhangra captures one of the city's most vibrant, cross-cultural, and enduring parties, which features DJs and guest musicians and dancers introducing and building on worldly styles that would otherwise go relatively unexposed in the area."
-NBC Bay Area-

"Border-Boundless Night", an amazing option for those looking to mix their dance with a cocktail and actually learn something in the process"
-San Francisco Weekly -

Top 5 things to do in SF Bay Area
-New York Times-
Voted Best Dance Party in SF
Voted as one of 250 Things to do in SF before you die
-7x7 Magazine-
Voted Top 5 Global Events
One of the most outrageous parties in SF
Top 20 Favorite far-out dance floor destinations
One of the most inspiring on the Bay Area Dance Floor
San Francisco, Bay Guardian
Organizer of Non Stop Bhangra #109--Welcome 2015!
Featured every month at Public Works in San Francisco, NON STOP BHANGRA is a unique experience that celebrates the beautiful and vibrant spirit of Bhangra, a traditional Punjabi folk music and dance.
Imagine a scene from a Bollywood movie smack in the middle of a thumping night-club---swirling colors, the rhythm of pounding feet, and the relentless energy of brilliant beats-that's

NON STOP BHANGRA!
Highlighting the ancestral roots of Punjabi dance while pushing boundaries with contemporary influences, Non Stop Bhangra is a genre-busting elixir of North Indian Bhangra music and dance, mixed with reggae, hip-hop, and electronica. An ever-evolving collective of dancers, DJs, drummers, vocalists, and musicians, Non Stop Bhangra has been making Bay Area dance for almost 13 years and voted one of the best dance parties in San Francisco. Featuring dance lesson, dance performances, live drumming, dj sets, visuals, live art, henna, and more plus one of the most diverse crowds seen on a dance floor, Non Stop Bhangra is a treat for the eyes and ears and one of a kind experience only found in San Francisco!