NON -FOOD VENDOR REGISTRATION - Seaside Fiesta Flagler Avenue
Be part of the 33rd Annual Seaside Fiesta on Flagler Avenue, Thursday, June 17th from 5pm -9pm
About this event
The 33rd Annual Seaside Fiesta Block Party, hosted by the Flagler Avenue Business Association takes place along Flagler Avenue in New Smyrna Beach on Thursday, June 17, 2021from 5:00-9:00 pm. This is a family affair with a carnival theme bringing families, friends, and neighbors to enjoy fun, games, and entertainment. Your business will gain increased exposure and sales from New Smyrna Beach residents, tourists, and neighbors from the surrounding communities.
Vendor Information: Each booth space is 10' x 10', Each vendor is required to provide a family friendly activity or children's game in their booth. Set-up begins at 3:30 pm on Thursday, June 17, 2021. Your booth must be removed by 9:30 pm on the night of the event. If you have participated in the past, booth locations can be requested but are NOT guaranteed. Vendors must provide all tables and any materials needed to set up and run their booth. NO large generators are permitted.
***ELECTRICITY NOT PROVIDED OR AVAILABLE***
Upon Checkout, please select the which type of booth your business will need. Not selecting the correct fee for your business style, could result in owing additional monies the day of the event.
Space Pricing: SINGLE DOUBLE
Artists/Craftspeople $50 $75
Business/Commercial $75 $125
Non-Profit/School $25 $40
If you have any questions please email fabainformation@gmail.com or text, Drita Travis, at 386.690.9284.
FOOD VENDORS can register here https://nsbseasidefood2021.eventbrite.com
We hope to see you at the 33rd Annual Seaside Fiesta on Flagler Avenue!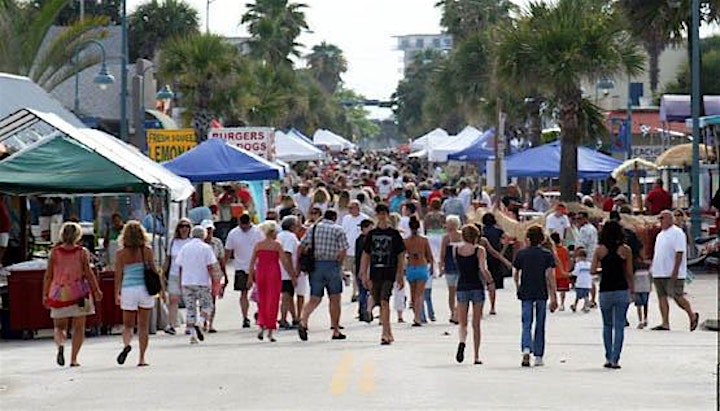 Organizer of NON -FOOD VENDOR REGISTRATION - Seaside Fiesta Flagler Avenue
Flagler Avenue, located in New Smyrna Beach, FL, is a treasure of yesterday's old Florida ambiance. Stroll this charming historic street and leave a personal inscription on the "Walk of Fame" by having a brick engraved with your message. Leisurely walk the five blocks from the ocean to the river. Extend your stay and experience a spectacular oceanside sunrise or riverside sunset. Awake to the sound of the ocean or the natural beauty of the river and once again enjoy the enchantment of Flagler Avenue. For visitors and residents alike, this area also offers a vibrant nightlife and active community calendar of events. There's always something happening on Flagler Avenue!