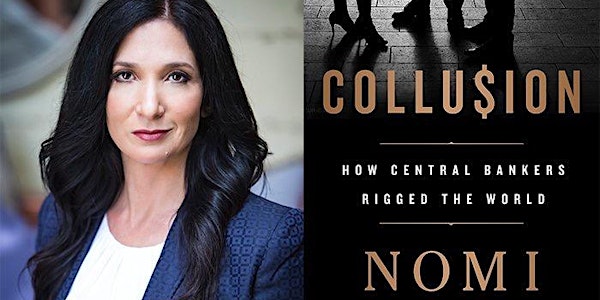 Nomi Prins Collusion Book Release WOH
When and where
Location
Immanuel Presbyterian Church 3300 Wilshire Boulevard Los Angeles, CA 90010
Description
Women Occupy Hollywood presents an evening with Nomi Prins to celebrate the California release of her new book 'Collusion: How Central Bankers Rigged the World'.
A book that Publishers Weekly praises as "(an) unflinching, troubling exposè...not for the faint of heart", and Kirkus Reviews called "a sharp-edged critique of the hegemony of central banks over the world's economies" this expertly written, but in true Nomi style, fabulously approachable and readable book, has already garnered exceptional reviews by visionaries and ground breaking experts such as David Cay Johnston, Paul Craig Roberts, James Rickards, Jeremy Scahill, Danielle DiMartino, and Ralph Nader.
Sponsored by Women Occupy Hollywood, KPFK, and Truthdig, and hosted by the irrepressible award winning investigative journalist and author Greg Palast, the night not only includes an hour-long interview of Nomi but, also a live music performance by Danny McGaw and his band who will be showcasing his composition 'You & Me, the companion song to 'Collusion' amongst other songs on his upcoming album. Nomi and Greg will also be joined on stage by other luminaries.
There are multiple ticket options especially for Women Occupy Hollywood from entry only all the way up to a VIP experience with Nomi which includes a signed book, personal photo opportunity, preferred seating, food, wine, and, of course, on Cinco de Mayo, a fabulous tequila tasting courtesy of Mario Lozano of Señor Artesano Tequila.
Please join us on the evening of May 5, 2018 as one of the United States' pre-eminent thinkers and authors on public policy, politics, banking, the world economy, and the Federal Reserve reveals the truth about the 'Collusion' between world central banks and bankers.