A nomadic exploration in Dragoon Mountains, AZ
About this event
"Of wisdom purified surmounting both past and the future, gone beyond time, and in every way free from sense-bases, such a one rightly would wander in the world." SNP 2.13
People have been wandering the earth for thousands of years, often in groups, relying on each other for protection, support and belonging. This retreat is designed to reconnect people to the primal activity of moving through a landscape with a group of fellow travelers.
Spend Thanksgiving under an open sky, supported by stunning rock formations, bright stars, and dharma friends. Together we will listen to the landscape, cook, clean carry, and practice as we traverse this sacred land.
Reach out to Terry and Henrik for more info henrik@dharmatreasure.org
Prerequisites
This is a retreat for meditators that have some experience with meditation, are comfortable with nature, and are in moderate to good physical shape. The environment can be challenging, cacti, mountain lions, rattlesnakes and scorpions are in the area, but usually not a problem.
You are expected to practice eight precepts.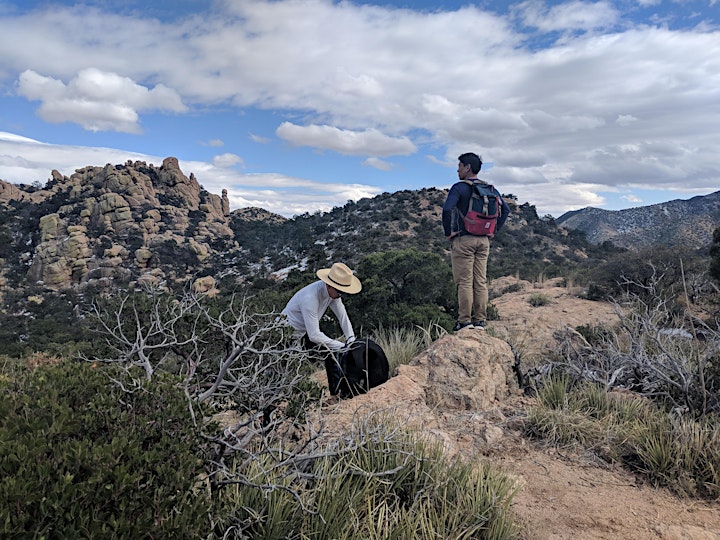 About the retreat spotters
Terry Moody first fell in love with the Dragoon Mountains as a teenager growing up in the Tucson Sonoran Desert. For her the retreat center and natural landscape of Cochise Stronghold is a home. She has studied in non-dual and Buddhist traditions over the past 15 years, and is certified TMI teacher. The natural world is her greatest teacher.
Henrik A. Norberg has meditated in the mountains of Sri Lanka, the jungle of Thailand, and led forest monks on Tudong in the Mountains of Norway. He has meditated since the late 90's, and is a certified TMI teacher, and is mostly practicing in traditional samadhi practises.
Enrollment
The retreat is only open for 8 yogis, with a minimum enrollment of 4.
Cost
Sliding scale $600 - $1000 to register.
If you need transportation to and from the Tucson airport, there is a $200 roundtrip fee, which can be shared with other retreatants. Payment and arrangements must be made directly through Dharma Treasure, and are not included in retreat registration.
You will need to bring your own tent and sleeping bag. A limited number may be available from Dharma Treasure if needed - contact retreats@dharmatreasure.org to make arrangements.
All dana and proceeds after expenses will be donated to Dharma Treasure Retreat Center.