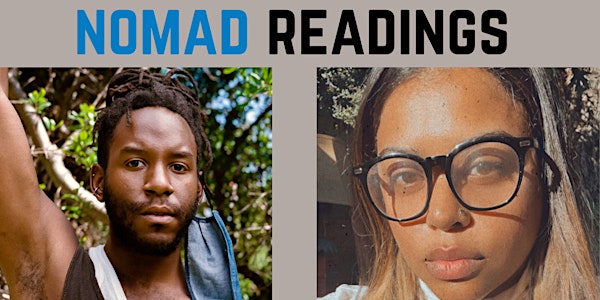 NOMAD: Rio Cortez, S*an-Henry Smith
NOMAD Readings is a Brooklyn (and elsewhere) based series featuring artists in relationship to community, process, and collaboration.
When and where
Location
Grandchamps 197 Patchen Avenue Brooklyn, NY 11233
About this event
Join us for our very first reading of 2022! We're thrilled to welcome Rio & S*an back to kick things off, as well as introduce our *new* home base & a few changes.
Rio Cortez is the New York Times bestselling author of picture books The ABCs of Black History (Workman, 2020) and The River Is My Sea (S&S, 2024). Her debut poetry collection, Golden Ax, is out now from Penguin Poets.
S*an D. Henry-Smith is an artist and writer working in poetry, photography, and performance who engages Black experimentalisms and collaborative practices. They have received awards and fellowships from the Fulbright Program, The Poetry Project, Poets House, and Antenna/Paper Machine, among others. Henry-Smith collaborates with Imani Elizabeth Jackson as mouthfeel; their book Consider the Tongue (2019) probes histories of aquatic labor and Black food through cooking, poetry, and ephemeral practices. They are the author of two chapbooks, Body Text (2016) and Flotsam Suite: A Strange & Precarious Life, or How We Chronicled the Little Disasters & I Won't Leave the Dance Floor Til It's Out of My System (2019). Wild Peach is Henry-Smith's first full-length collection. They are also the director of the short film Lunar New Year (2021).
As always, it will be cute. Don't miss out!
This event is funded in part by Poets & Writers with public funds from the New York State Council on the Arts with the support of the Office of the Governor and the New York State Legislature.
COVID precautions: NOMAD Readings is first and foremost interested in harm reduction during these very uncertain times. Therefore, all participants will be asked to follow any or all of these three precautions: 1. Proof of Vaccination 2. Rapid Test 36 hours before 3. Masks if you feel inclined. Options 1 and 2 can be emailed directly to nomadreadings@gmail.com.