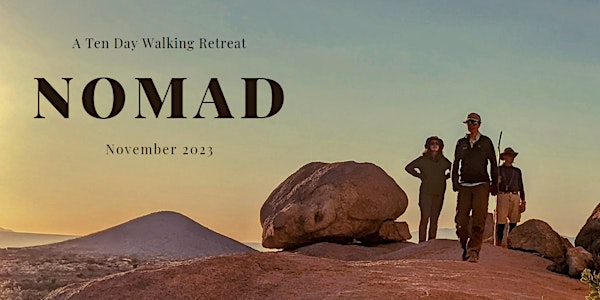 Nomad Retreat
A nomadic exploration of the Dragoon Mountains, AZ
Location
Dharma Treasure Retreat Center at Cochise Stronghold 2126 W. Windancer Trail Cochise, AZ 85606
Refund Policy
Contact the organizer to request a refund.
Eventbrite's fee is nonrefundable.
About this event
7 days 19 hours

Mobile eTicket
Nov 18- 26
"Of wisdom purified surmounting both past and the future, gone beyond time, and in every way free from sense-bases, such a one rightly would wander in the world."
SNP 2.13
People have been wandering the earth for thousands of years, often in groups, relying on each other for protection, support and belonging. This retreat is designed to reconnect people to the primal activity of moving through a landscape with a group of fellow travelers. For more experienced meditators, this retreat will provide an opportunity to explore the origins of meditation and to reexamine what it means to retreat. For those new to meditation, this retreat offers the opportunity to discover meditation in the natural environment as it was first conceived. All participants will have the opportunity to deepen their connection with the natural world and to gain a renewed perspective of oneself and place in society.
Spend a week under an open sky, supported by stunning rock formations, bright stars, and dharma friends. Together we will listen to the landscape, breath, cook, and practice as we traverse this sacred land.
Reach out to Henrik for more info retreats@dharmatreasure.org
Prerequisites
This is a retreat for meditators that have some experience with meditation, are comfortable with nature, and are in moderate to good physical shape. The environment can be challenging, cacti, mountain lions, rattlesnakes and scorpions are in the area, but usually not a problem.
You are expected to practice eight precepts.
About the Guides
Henrik A. Norberg has meditated in the mountains of Sri Lanka, the jungle of Thailand, and led forest monks on Tudong in the Mountains of Norway. He is a cave yogi, wanderer and mind explorer interested in early Buddhism and samadhi practices , and is a certified TMI/ Mind Illuminated instructor.
Henrik will be guiding for free but does appreciate dana and support in the form of gifts or gift cards for things like shoes, clothing, food, and other practical goods.
Henrik currently dwells at https://arannagato.com/
Enrollment
The retreat is only open for 8 yogis, with a minimum enrollment of 4.
Donation
We would encourage a $600 - $1000 donation to cover costs like food, equipment and a basic camping fee for staying and using the fascileties at Dharma Treasure. The guides are not paid, and are aprciating any gifts that makes it possible for them to support this retreat.
If you need transportation to and from the Tucson airport, there is a $200 roundtrip fee, which can be shared with other retreatants. Payment and arrangements must be made directly through Dharma Treasure, and are not included in retreat registration.
You will need to bring your own tent and sleeping bag. A limited number may be available from Dharma Treasure if needed - contact retreats@dharmatreasure.org to make arrangements.
This is a private trip, with no commercial outfit running the trip or profiting from it. Any surplus from the trip balance will be donated to Dharma Treasure Retreat Center.
If you'd like to attend, but the costs of this retreat prohibit you from attending, full and partial scholarships can be applied for at Open Dharma Foundation.
Here is what Marina shared on her facebook about her experience:Previous year at the end of November I went to a Nomad Meditation Retreat for 10 days. It was not a usual retreat — a group of strangers hiked in the high desert for ten days in southern Arizona and meditated.
Also, it was not your typical backpacking trip in WA where the water is not an issue — in the desert, you have to carry your water because there are not that many water streams. Also, the temperature between day and night was changing drastically during that time of the year — something between the 30s and the 70s.
Our typical day was to wake up at 5 am, gather the woods, and make a fire as soon as possible since we were very cold and our tents or sleeping bags (some people didn't have tents on purpose) were all covered by frost. Then make coffee and start meditating.
We had only two meals during the day. I was carrying my food since I am a vegan, but otherwise, the food was provided.
The landscape was changing as we traversed that sacred land and it was so beautiful.
The environment was challenging, cacti, mountain lions, rattlesnakes and scorpions were in the area, but they were not a problem. Except my clothes at the end of the hike were all tattered because of different types of cacti on the trail.
Also, once I was sitting up on the rock observing a beautiful valley and meditating by myself and a coyote was passing me very close by. It was an unbelievable experience. Also, it was so quiet over there that you could hear the flapping of the bird wings. Just magical!
We lived under an open sky, supported by stunning rock formations, bright stars, spectacular sunrises, and sunsets.
Part of the experience was to live in the cave by yourself without a tent which was absolutely magical. Also, to camp sometimes far away from the group. And it was the most challenging part for me since I have never camped by myself in the wilderness. But meditation helped me to conquer my fears and experience all the emotions I was facing with patience and observe them with curiosity.
I met absolutely wonderful people and I'm so thankful our paths have crossed. I was the newbie meditator in the group and I learned so much from everyone.
After the retreat, I was enjoying having all the pleasures Dharma Treasure Retreat Center could offer. Especially spending the night in the moon palace and enjoying the hot tub under an open sky during sunrise 🙂
I am beyond grateful to Henrik Aleksander Norberg for organizing such a unique meditation retreat and for helping and guiding others in their meditation journey🙏
I think it was one of the best adventures of my life. And I always pop up the memory of it when I want to return to a peaceful state of the mind.