Nomad PHP EU - September 2017

Thursday, September 21, 2017 from 8:00 PM to 9:00 PM (CEST)
Event Details
Crafting Quality PHP Applications
Presented by James Titcumb (@asgrim)
Date: September 21, 2017
Time: 20:00 CEST
19:00 BST, 13:00 CDT, 11:00 PDT
Not sure of the time in your area? Check it on the timeanddate.com
This prototype works, but it's not pretty, and now it's in production. That legacy application really needs some TLC. Where do we start? When creating long lived applications, it's imperative to focus on good practices. The solution is to improve the whole development life cycle; from planning, better coding and testing, to automation, peer review and more. In this talk, we'll take a quick look into each of these areas, looking at how we can make positive, actionable change in our workflow.
Meet James Titcumb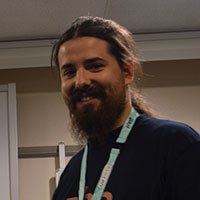 James is a consultant, trainer and developer at Roave. He is a prolific contributor to various open source projects and is a Zend Certified Engineer. He also founded the UK based PHP Hampshire user group and PHP South Coast conference.
EICC, Inc. Refund Policy
All ticket sales are final.
Tickets are transferable. If you sell/gift your ticket, please let us know, we are happy to transfer ownersip on our end.
Organizer
EICC, Inc. is the brainchild of the husband and wife team of Cal Evans and Kathy Evans. Together they have over 30 years of web site design and development experience.