Nomad Mage - May 2017

Tuesday, May 23, 2017 from 8:00 PM to 9:00 PM (EDT)
Event Details
Happiness Comes to Those Who Queue
Presented by James Cowie (@cowie)
Date: May 16, 2017
Time: 20:00 CDT
18:00 PDT, 3:00 CEST (May 17), 2:00 BST (May 17)
Not sure of the time in your area? Check it on the timeanddate.com
Handling large volumes of data in single transactions it's often a memory intensive and high horsepower operation. Think mass product imports and all the resources associated with loading that into the DB. This is a problem that has been solved before and with the introduction of Queues, we are able to drop data on a queue and let another process handle its transition and eventual exit into another system.
One of the features I got very excited about in Magento 2 was its inclusion of RabbitMQ as a queue based system. Its potential for use in my mind was massive, Product Feeds, Imports, Reporting exports. The list went on. As projects grow and the need for stability and scalability increase having such a system in place ticked all the boxes.
During this NomadMage you will get an understanding of what Queue based system are, The different between Queues, Exchanges, and Topics. Some common design patterns used in Exchanges and how they are implemented in RabbitMQ. We will then explore how to actually use RabbitMQ within Magento 2. Auto-generating Topics and Exchanges in Magento 2 and then creating producers and consumers to handle the put and get of data from the queue. My hope is that by watching this presentation you will have the confidence to not only implement queues in your projects but know when and why queue-based systems should be used in your projects.
Meet James Cowie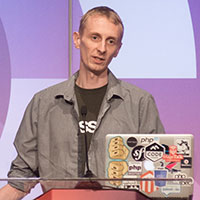 James is a Technical Architect @Magento and Magento 2016 Magento Mover with over 10 years of experience in PHP and web applications. He also likes to work on BDD / TDD tools and is one of the maintainers of MageSpec and BehatMage. Together with Allan MacGregor he co-presents MageCasts.IO to help educate people on SOLID, TDD, BDD and Magento 2.
---
EICC, Inc. Refund Policy
All ticket sales are final.
Tickets are transferable. If you sell/gift your ticket, please let us know, we are happy to transfer ownersip on our end.
Organizer
E.I.C.C., Inc.
EICC, Inc. is the brainchild of the husband and wife team of Cal Evans and Kathy Evans. Together they have over 30 years of web site design and development experience.