A joint event to observe the 400th Anniversary of the arrival of the first Africans to be sold into bondage in North America.
About this event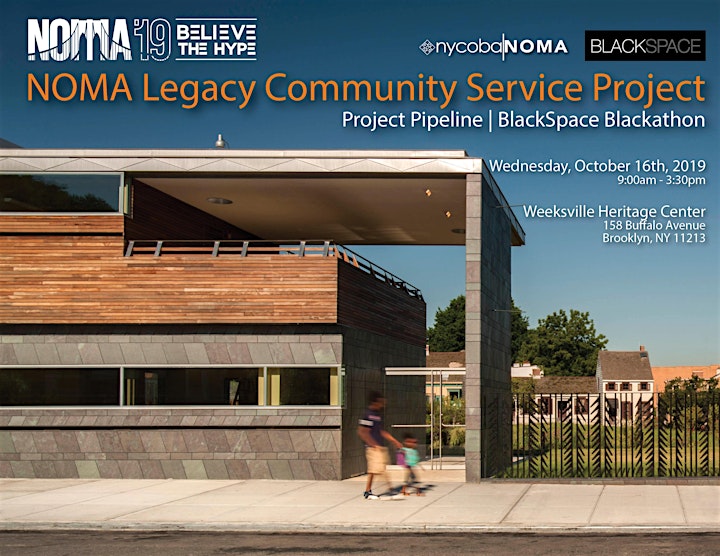 As a part of the National Organization of Minority Architects (NOMA) 47th annual conference being held in Brooklyn, the New York Coalition of Black Architects (NYCOBA) and BlackSpace are partnering on a joint event to observe the 400th Anniversary of the arrival of the first Africans to be sold into bondage in North America. As a kickoff to the conference titled Believe the Hype: A Global Collective of Industry Change Agents, Wednesday, October 16th will be an opportunity for conference attendees and volunteers to participate in a Black heritage conservation and future-making design initiative. The Weeksville Heritage Center is a perfect location for this collaborative event due to its importance as a refuge for African Americans after the abolition of slavery in New York state.
To start the day, we are holding two concurrent events, a NOMA Career Day at Mott Hall Bridges Academy - MHBA (a Brownsville based charter middle school focused on promoting STEAM programs) and an immersive Project Pipeline Design Charrette workshop in partnership with BlackSpace at Weeksville. Our Career Day event will be hosted at the MHBA and will serve the entire school population to provide a forum to hear from and ask questions of Black architects and designers. The sessions will occur during class periods throughout the school day and all are welcome to share insight with these bright minds. The Project Pipeline Design Charrette and BlackSpace Workshop will begin with a moderated group discussion about the importance of Weeksville as a Black space and our special invited guests, the Architect of Record (Caples Jefferson Architects) and the Landscape Architect (Elizabeth Kennedy Landscape Architect) will speak to the unique design ideas and challenges that came with restoring the landmark community with such a special history as Weeksville Heritage Center.
The discussion will be followed by a workshop between NOMA members, BlackSpace members, scholars from Mott Hall Bridges Academy and The Brooklyn Combine (a non-profit community organization that hosts STEM programs including teaching computer coding to the MHBA students). The workshop participants will be broken up into teams for a design competition – also known as the Project Pipeline | BlackSpace Blackathon. Each team will define and design their own future Black space using hand drawings and model making materials to express their vision. At the end of the day, a panel of judges will award the winning design team a cash prize to be donated to Mott Hall Bridges Academy and the New York Coalition of Black Architects to support future programming within both groups.
At the end of the Day of Service, our goal is to fulfill the Project Pipeline initiative mission, to help continue BlackSpace's commitment to promote and protect Black spaces, to give our youth an understanding of the importance of design within our communities and ultimately to empower minority design professionals to connect, collaborate and cultivate a community of our own.
For more information on each organization and initiative please visit:
www.nycoba.org and www.noma.net