Location
New Orleans
New Orleans, LA
Description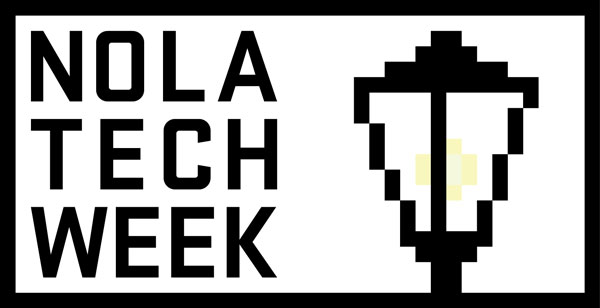 Welcome to NOLATech Week registration!
NOLATech Week is a week-long celebration of our city's unbelievable accomplishments, unrivaled community, and unbridled potential.
The week's events will showcase how our community is utilizing our city's economic growth to innovate across a myriad of disciplines. NOLATech Week will bring together businesses and individuals at the forefront of innovation, technology, and culture.
Focused on the entire greater New Orleans community, NOLATech Week will connect professionals from all over, ranging from tech companies, entertainment businesses, government agencies, environmental organizations, non-profits as well as health and science leaders. NOLATech Week is the future of New Orleans innovation.
NOLATech Week Quick Facts:
Nobody owns this event. This is a community created, funded, and crafted, event--by the community; for the community;
All events are free to the public;
Marquee Events have been planned for the week, and we look forward to revealing them soon;
In addition to the incredible events that Marquee event partners have planned, the goal is to have countless Featured Events, created by community organizers such as yourself. As long as your event is free, and in the spirit of the Week, it will be listed on the schedule as a "Featured NOLATech Week Event." There's a form below, which makes it easy to submit a Featured event;
All events are intended to educate, engage, facilitate collaboration, or grow awareness, for all businesses, organizations, and members of our community;
Events can (and will) take many different forms. Potential event formats include: panels, classes, pitch competitions focused on

sustainability

, startup features, family tech activities, cocktail parties, competitions to bring in companies from out of state, a city-wide cultural/educational events, film competitions, and more;
While the events are free, and open to the public, NOLATech Week badges are needed to attend the Marquee events. But, you're encouraged to wear the badges at all the Featured events as well.
Everyone who registers to take part in the week, will receive a "NOLATech Week Attendee" badge at their first marquee check-in. While registering, those who choose to donate $5 will recieve a "NOLATech Week Supporter" badge, and some cool NOLATech Week gear;
100% of those donations will go to the crowdsourced charity, which will be selected by those who attend the closing party on October 12th;
Events will be going on all over the city, featuring a wide variety of our community's resources;
As community events continue to be submitted, we'll be updating the schedule, so keep checking back to see all the new events being added each day;
Sponsor and Partner donations will be collected to make the overall week a success. Community created events will also collect sponsoships directly, which is intended to help them offset their costs, locate future potential sponsors, and recognize those community sponsors on the NOLATech Week site, that made the events possible;
The goal of NOLATech Week is to come together as a community to celebrate all of the organizations, businesses, products, and people that makes New Orleans unique. This is the perfect platform to show how much we've already started to play a major part in the world's tech economy and how our city is perfect for innovations in Music, Health, Education, Art, Food, Energy, Entertainment, and so much more.
Marquee Event Partners currently include:
This event will be what we make of it; so, let's make it phenomenal!
Let us know your idea for an event!
See you at NOLATech Week!
And, if you are interested in sponsoring, just let us know!