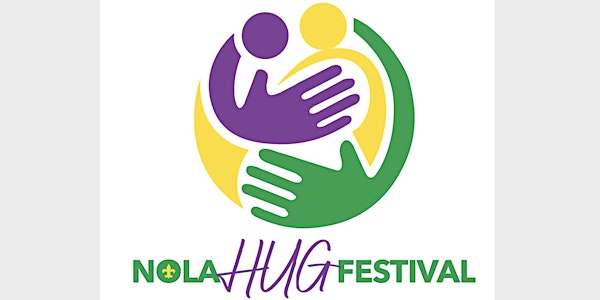 Nola Hug Festival 2023
Join us in an attempt to break the Guinness World Record for the largest group hug in the world!
When and where
Location
New Orleans 930 Poydras Street New Orleans, LA 70112
Refund Policy
Contact the organizer to request a refund.
Eventbrite's fee is nonrefundable.
About this event
In 2018, New Orleans Mayor LaToya Cantrell outlined a goal of reducing the murder rate by 50% over the next five years. She has since proposed a series of programs designed to address the root causes of crime and reduce the trauma felt by people who have been exposed to it.
Nola Hug Fest 2023 is designed to be a small, but meaningful step toward this goal. We are seeking support from the community and beyond to help us make this vision a reality.
In the aftermath of Hurricane Katrina, the phrase, "Nola hug", was coined by FoxandRob Rich, subjects of the Oscar nominated film, TIME (2020). The Rich's* had this idea of bringing people together in the City of New Orleans, regardless of their background or circumstances, in an effort to provide a pathway to healing.
The healing power of a hug has been proven time and time again. If performed properly (10 seconds or more), hugs may reduce stress, lower anxiety, boost self-esteem and communicate a sense of security in all.
The Nola Hug Fest is our opportunity to prove to the world that although New Orleans may be the "City That Care Forgot", we believe in the resiliency of the people. Hence, this festival is a celebration of the city's resilience, and is a call to arms for New Orleanians to come together and show the world that we will not be defeated by the adversity that has befallen us. And, we are asking the world to join us in our efforts.
If your community interest is to change the culture of violence and make better the world we live in, then we ask you to join us on February 11, 2023 in New Orleans, LA, along with 10,555 others as we attempt to break the Guinness World Record for the largest group hug in the world. This event will serve as a show of solidarity to ourselves and the nation that we are committed to changing the course of history for communities plagued by violence, poverty and neglect, one massive hug at a time!
The Nola Hug Fest is a call to action. We are calling on the world to converge on New Orleans and join in the simplest experience of human connection. We believe that through this experience our community will have the opportunity to turn a corner and be on the path to healing and recovery.
Your participation fee will include:
Admission to the NolaHugFest
A hardback copy of FoxandRob's forthcoming book, TIME (releasing February 7th through Baker Books).
A commemorative T-shirt.
A certificate of participation from the Guinness World Records.
If you can't join us in person, please consider supporting our efforts by making a donation. A portion of all proceeds will support Families and Friends of Louisiana's Incarcerated (FFLIC).