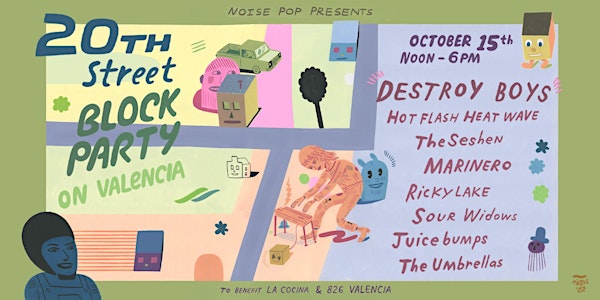 Noise Pop's 20th Street Block Party On Valencia (FREE!)
ALL AGES
Noise Pop Presents
Noise Pop is proud to take the ninth annual 20th Street Block Party to a new home on Valencia Street to benefit 826 Valencia and La Cocina!
When and where
Location
Mission District 20th Street San Francisco, CA 94110
Performers
Headliners
More Performers
Hot Flash Heat Wave
The Seshen
Marinero
Ricky Lake
Sour Widows
Juicebumps
The Umbrellas
About this event
BLOCK PARTY IS BACK 🎉
We're bringing back 20th St. Block Party in 2022 to a new home on Valencia Street!
Known as our "love letter to The Mission" this part-street food fair, part-music festival, and part-local shopping bazaar will once again showcase the diverse neighborhood that has been home to the Noise Pop office for over a decade.
This year's community event offers a diverse array of musical tastes as well as local performers from the greater Bay Area including Oakland-based punk rock trio DESTROY BOYS, who will headline the 2022 festival. The rest of the 2022 lineup includes surf-pop rockers HOT FLASH HEAT WAVE; six-piece electro-indie outfit THE SESHEN; singer/songwriter MARINERO; Oakland-based rapper Ricky Lake; and many more.
20th Street Block Party is a FREE event created as a love letter to our local neighborhood community. Donations will benefit our local non-profit partners 826 Valencia and La Cocina, as well as the future of the festival. Donate any amount through the ticket link to help support!
MUSIC LINEUP
Destroy Boys
Hot Flash Heat Wave
The Seshen
MARINERO
Ricky Lake
Sour Widows
Juicebumps
The Umbrellas
For the first time in its history, 20th Street Block Party will relocate to a new and larger home, off Valencia Street between 18th and 20th Streets, which is where the new Noise Pop office is also located. With a continued focus on all things local since the event's inception in 2013, the fall Block Party will continue to highlight the small businesses, food, music, art, and rich culture that not only inspires the Mission District community but residents across the Bay Area and far beyond.
Noise Pop is now inviting businesses along Valencia Street and across the Mission District to participate as an official vendor in the Saturday event this coming October. With the ultimate goal of showcasing the beauty of the Mission to those who might not be familiar while instilling a strong sense of pride for longtime area residents, event organizers are calling on local independently-owned businesses to apply online by August 31.
"20th Street Block Party has always been about lifting up the iconic Mission District area, which is near and dear to all of us at Noise Pop for not only housing our offices but more importantly, acting as a pillar and guiding light for the culture of SF. With this new location off Valencia, we hope to not only engage with more local businesses and provide a more authentic representation of the Mission, but also bring more fans into the fold than ever before. With a focus on all things local - from the artists to the vendors to the nonprofit partners involved this year - I can't imagine a better way to support our fellow Mission District neighbors while spending a lovely day outdoors in one the most vibrant and culturally rich communities in the entire country," said Noise Pop President Stacy Horne.
While the outdoor event on October 15 will remain admission-free for guests of all ages, guests need to first register in advance to reserve a spot with online reservations now available at 20thstreetblockparty.com. Similar to last year, advance RSVPs are being required to help manage attendance and maintain a safe experience for all.
Additionally, Headliner Experience VIP tickets are also available for purchase for just $69 at 20thstreetblockparty.com. These Headliner Lounge ticket-holders will be treated to a private lounge and bar, exclusive outdoor viewing areas, complimentary adult beverages (21+ only), bites from some of the best restaurants in the Mission District, and other perks exclusive to pass-holders. VIP ticket prices will continue to rise as the event date approaches.
A portion of proceeds from this year's event will benefit two nonprofit organizations based in the Mission District. This year's charity partners include 826 Valencia, a nonprofit dedicated to supporting under-resourced students and teachers as well as La Cocina that supports low-income food entrepreneurs across the Bay Area. Donations are being accepted at the door upon entry, as well as online when fans RSVP to reserve their spot.
This year's Block Party original poster artwork is once again designed by local artist Jason Jägel, who also created the Block Party's artwork last fall.
To learn more about this year's 20th Street Block Party, please visit 20thstreetblockparty.com while following along on Facebook, Instagram, and Twitter for future news and announcements.
About 826 Valencia:
826 Valencia is a nonprofit organization dedicated to supporting under-resourced students ages six to eighteen with their creative and expository writing skills and to helping teachers inspire their students to write. Our services are structured around the understanding that great leaps in learning can happen with one-on-one attention and that strong writing skills are fundamental to future success.
About La Cocina:
La Cocina is a nonprofit working to solve problems of equity in business ownership for women, immigrants and people of color. We provide affordable commercial kitchen space to talented entrepreneurs, as well as mentorship and access to market opportunities. La Cocina amplifies the voices that need to be heard.
Covid-19 Health and Safety:
Noise Pop is committed to providing a fun, inclusive, and safe experience for fans, performers, vendors, and community residents at this year's Block Party.
Our team takes safety very seriously and we are monitoring the situation closely with respect to COVID-19. Please stay tuned to @noisepop on all social media platforms for the latest updates.