Noise Pop is proud to present the eighth annual 20th Street Block Party to benefit 826 Valencia and La Cocina!
About this event
The 20th Street corridor will once again be transformed into a FREE party to showcase and celebrate a diverse neighborhood that blends modern ideas with community traditions to create a new San Francisco experience. This free, delicious summer feast and dance party will feature some of the City's best restaurants, local businesses and artisans as well as a variety of indie bands.
Doors open at 12:00 PM. Music ends at 6:00 PM.
All Ages to dance, 21+ to drink.
NEW ENTRY POLICIES THIS YEAR!
RSVPs are required for all Block Party attendees.
All members of your group must enter at the same time.
Mask requirements are subject to the current San Francisco Department of Public Health order.
Please stay home if you're not feeling well. There will always be another show to catch once you're feeling better!
2021 MUSIC LINEUP:
Y LA BAMBA, CON BRIO
L.A. WITCH, FRENCH CASSETTES
SAME GIRLS, ZELMA STONE
LOUDA Y LOS BAD HOMBRES, STRANGE CITIES
2021 FOOD LINEUP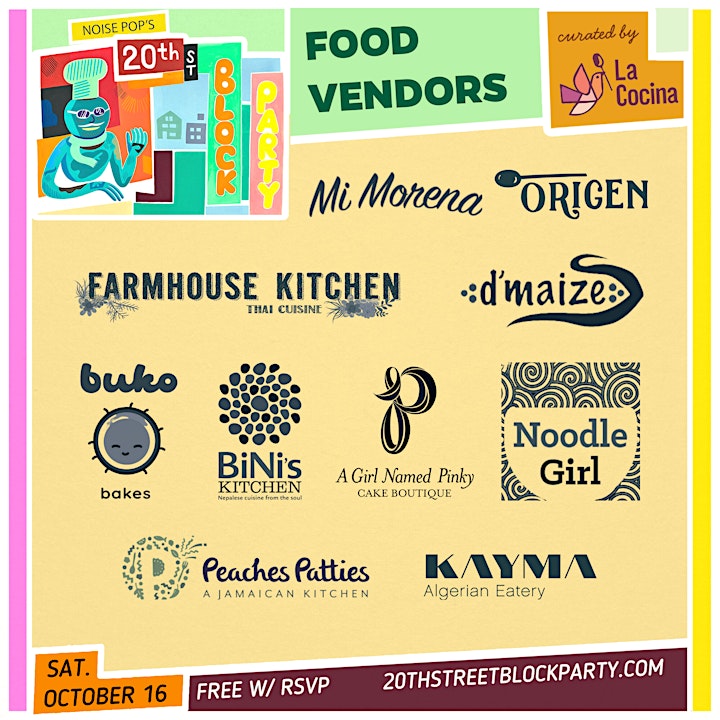 About 826 Valencia:
826 Valencia is a nonprofit organization dedicated to supporting under-resourced students ages six to eighteen with their creative and expository writing skills and to helping teachers inspire their students to write. Our services are structured around the understanding that great leaps in learning can happen with one-on-one attention and that strong writing skills are fundamental to future success.
About La Cocina:
La Cocina is a nonprofit working to solve problems of equity in business ownership for women, immigrants and people of color. We provide affordable commercial kitchen space to talented entrepreneurs, as well as mentorship and access to market opportunities. La Cocina amplifies the voices that need to be heard.
Covid-19 Health and Safety:
Noise Pop is committed to providing a fun, inclusive, and safe experience for fans, performers, vendors, and community residents at this year's Block Party.
Our team takes safety very seriously and we are monitoring the situation closely with respect to COVID-19 and the new delta variant. In working closely with the San Francisco DPH, we will continue to adapt when necessary to make sure this is a safe event for all and in accordance with local health guidelines.
Please stay tuned to @noisepop on all social media platforms for the latest updates.
Performers
Date and time
Location
Organizer of Noise Pop's 20th Street Block Party (FREE!)