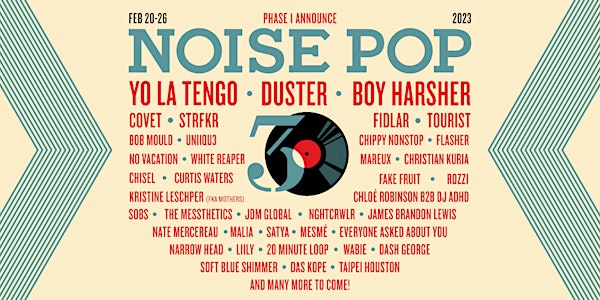 Noise Pop 30
ALL AGES
Noise Pop Presents
The 30th edition of the Bay Area's original celebration of independent music, film, and art.
When and where
Location
San Francisco Bay Area All Over the Place San Francisco, CA 94110
Performers
Headliners
More Performers
Boy Harsher
Duster
STRFKR
FIDLAR
Covet
Bob Mould
Tourist
UNIIQU3
Chippy Nonstop
Christian Kuria
Mareux
Chisel
No Vacation
White Reaper
fake fruit
Rozzi
Flasher
Kristine Leschper
Sobs
JDM Global
James Brandon Lewis
About this event
Noise Pop Festival 30th Anniversary
After 30 years of championing independent arts and culture, Noise Pop Festival have since blossomed into a one week, 160+ band, 80+ event, 25+ venue music and arts festival that remains a staple in the San Francisco bay area.
In 2023 for our 30th anniversary, we are continuing the tradition of celebrating independent live music by bringing you a special curated lineup of classic indie bands, up-and-coming acts, reunion shows, SF debuts and local Bay Area bands!
February 20 – February 26, 2023
Lineup:
Yo La Tengo
Boy Harsher
Duster
STRFKR
FIDLAR
Covet
Bob Mould (Solo Electric)
Tourist
UNIIQU3
Chippy Nonstop
Christian Kuria
Mareux
No Vacation
Chisel
Chloé Robinson b2b DJ ADHD
White Reaper
Fake Fruit
Rozzi
Curtis Waters
Flasher
The Messthetics
Kristine Leschper (fka Mothers)
Sobs
NGHTCRWLR
JDM Global
James Brandon Lewis
Nate Mercereau
Satya
Malia
Everyone Asked About You
Mesmé
Narrow Head
Liily
20 Minute Loop
Dash George
Soft Blue Shimmer
Wabie
Das Kope
Taipei Houston
ARTIST SUBMISSIONS ARE NOW OPEN! Submit Here
Noise Pop Music & Arts Festival takes the best venues in the Bay and collectively turns them into your personal festival ground. Throughout the week there are different films, art shows, happy hours, and concerts all over SF and the East Bay.
There are two ways to attend the fest: buy a badge and get into everything or choose your own adventure by purchasing tickets to individual shows and films.
2023 will mark the 30th edition of Noise Pop Festival, and we're ready to celebrate! Stay tuned for exciting updates and announcements coming soon.
Stay tuned for more festival announcements through the official festival website at www.noisepopfest.com, Learn more about Noise Pop by visiting NoisePop.com, as well as follow along on Facebook, Instagram, Twitter for future news and events.