Nogada Brunch

Saturday, September 27, 2014 from 11:00 AM to 2:00 PM (CDT)
Event Details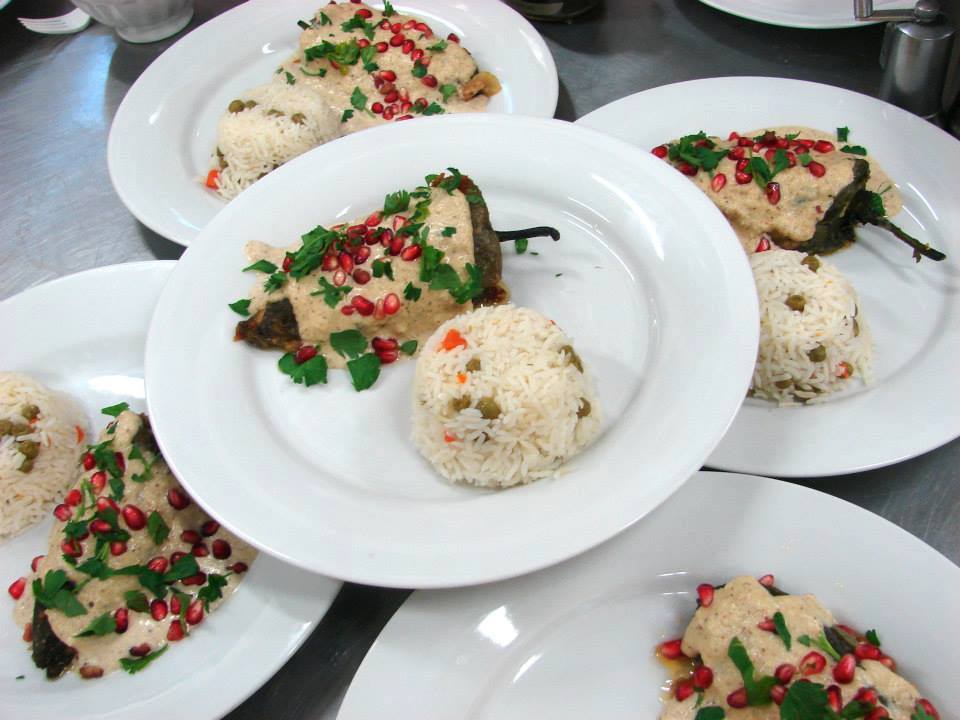 Nogada Brunch
Come out and celebrate Hispanic Heritage Month with a Mexican Independence favorite!
1st Course
Pan de Dulce (sweet bread) 
2nd Course
Huevos Ahogados (Mexico City)
(Poached eggs, cooked in a tomato based soup)
3rd Course
 Ensalada de Berros
(watercress salad)
4th Course Menu
Choice of:
Cochinita pibil (Merida)
(Slow-cooked pork, marinate and wrapped in banana leaves)
or
Chile en Nogada (Puebla)
(poblano pepper, stuffed with a delicious mix of ground beef,m fruits and sherry; bathed with a walnut and goat cheese sauce)
5th Course
Tres Leches
Agua Fresca de Xoconostle 
(Cocina's exclusive, sour prickly pear water)
Feshly squeezed OJ, Café
Like our Facebook page, send us an inbox message with your name and email address to receive a $5 off coupon. 
https://www.facebook.com/CocinaHeritageThe Restaurant
Available to go, upon pre-ordered and pre-paid*. May also be purchased the day of the event upon availability.
Plate with one entree, white rice, and dessert.        $15.00 +tax
Main entree by the pound with bread or tortillas      $20.00 +tax
Agua Fresca to go 20 oz. cup                                 $2.50 +tax
Slice of any dessert offered on event day               $4.00 +tax
Pre-ordered and pre-paid at least three days prior to event
Mosaic gelatin or flan - medium (serves 10-20)        $20.00 +tax
Mosaic gelatin or flan - large (serves 16-28)             $30.00 +tax
Tres Leches  (serves 12-30)                                   $35.00 +tax
*Prices may be adjusted according to availbility of ingredients and their market value 
FAQs
Do I have to bring my printed ticket to the event?
Only if your name was not added to the original purchase order.
Is there parking available?
Yes, across the street. Entrance to parking is on W. Commerce (under side road) just passed N. Medina coming from Frio St.
Does Cocina Heritage use organic and naturaly raised ingredients? 
Cocina Heritage utilizes natural, hormone/antibiotic free meats and organic fruits and vegetables as they become available. 
Does Cocina  Heritage offer vegetarian options?
We offer vegetarian options if our guests let us know in a note with pre-paid tickets three days in advance.
Does Cocina  Heritage offer gluten free options?
Except for sweet bread, chiles en nogada and tres leches, everything else in the menu is gluten free and although we don't use barley  or rye and wheat for the above items, there may be traces of it due to food handling. We try our best to chage gloves and separate utensils when handling wheat.
When & Where

Avance Building
118 N. Medina St.
San Antonio, TX 78207


Saturday, September 27, 2014 from 11:00 AM to 2:00 PM (CDT)
Add to my calendar