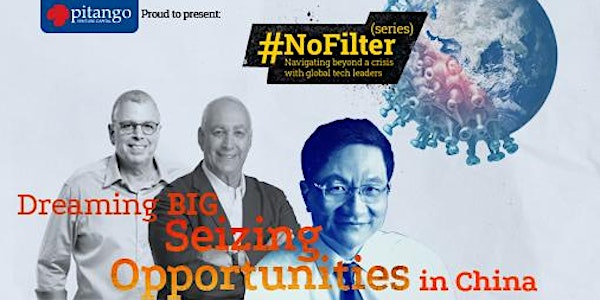 #NoFilter Series: Dreaming Big - Seizing Opportunities in China
Dreaming Big - Seizing Opportunities in China
About this event
Our next No Filter will hold a special trio conversation between Ning Tang, founder & CEO of CreditEase, Chemi Peres, Co-founder & Managing Partner at Pitango, and Aaron Mankovski, Managing General Partner at Pitango, on the opportunities presented by the current crisis around online transformation, customer engagement and beyond.
About Mr. Ning Tang:
Mr. Tang founded CreditEase in Beijing in 2006 and has been serving as its CEO ever since. He is also the Executive Chairman and CEO of Yiren Digital (NYSE: YRD).
In the past 14 years, CreditEase has grown into an internationally leading Fintech enterprise, promoting the development of inclusive finance and wealth management and Fintech innovation, with a strong emphasis on technology.
Yiren Digital (NYSE:YRD), CreditEase's online consumer finance and wealth management subsidiary, went public on NYSE on December 18, 2015 as the first Fintech company IPO from China in the global capital markets.
Apart from being an expert in everything finance, Mr. Tang has an exceptional personality and broad overview of various verticals in China and worldwide, and will share his perspective on the current business landscape in China and the tech collaboration opportunities between the two countries.