NOETICUS: Full Circle: Creative Explorations into Movement, Art, and Commun...
Actions and Detail Panel
NOETICUS: Full Circle: Creative Explorations into Movement, Art, and Commun...
Thu, December 28, 2017, 6:30 PM – 8:00 PM MST
Description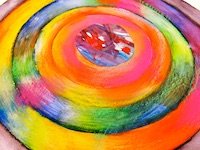 Full Circle:
Creative Explorations into Art, Movement, Community, and Personal Expression
"An open, drop-in class for anyone interested in exploring personal expression in a safe, supportive community."



Class Information:
Facilitators:

Kendall Grzyboski, MA, R-DMT

and the New Connections Team
Date: Every Thursday
Time: 6:30 pm - 8:00 pm (1.5 Contact Hours)
Where: Noeticus Office; 190 East 9th Avenue, Suite #310; Denver CO 80203
Cost:

$15.00 Suggested Fee; No One Turned Away

Contact Hours: 1.5 Contact Hours per Class
Registration: Pre-Registration

Encouraged; Drops-Ins Welcome

Size: Limited to 20 Participants
Class Description:
Full Circle is an open, drop-in class designed for members of the Denver Community who are interested in developing a deeper sense of connection with themselves and their community through guided embodiment practices that draw from a wide range of expressive arts and experiential modalities. Each class is designed to provide a complete experience and all classes are loosely based on the five axes of the creative arc identified in Creative Systems Theory. Because of this, participants can attend just one class or come as many times as they would like.
Full Circle is a collaborative venture offered by both Dancing the Soul and Noeticus Counseling Center and Training Institute. Both organizations see a tremendous need in the Denver Metro Community for people to have access to facilitated embodiment practices that foster a deeper sense of personal embodiment while simultaneously cultivating a greater sense of inclusion and community connection. Though some of this can happen in movement-based fitness classes, the focus tends to be more goal-oriented. In Full Circle the focus is on personal process and community building using the tools of greater truth telling through deep listening to the wisdom of the body.
Some of the primary practices and ongoing influences we will be drawing from during our Full Circle classes are:
5Rhythms
Art Therapy
Authentic Movement
Bartenieff Fundamentals
Brain Gym
Body-Mind Centering
Creative Systems Theory
Contact Improvisation
Continuum
Dance/Movement Therapy
Gestalt Therapy
Laban Movement Analysis
Psychodrama
Theater Improvisation
Yoga
No previous experience with expressive movement or dance improvisation is required to participate in Full Circle nor is it necessary to bring a partner. Just bring your willingness to explore a deeper sense of personal embodiment within a supportive community. The class is open to all men and women (and anyone in between) in the community who are interested in being part of a collaborative, creative process that invites the exploration of personal expression within the framework of a supportive community. Be sure to wear comfortable clothing that is easy to move in and of course be ready to learn more about yourself through this guided class.
Class Objectives:
Each class is an hour-and-a-half in length and generally follows this basic structure:
Establishment of Agreements and Commitments
Embodied Warm-Up with Community Connections
Facilitated Exploration of Emerging Themes
Guided Theme Development and Deepening
Integrative Cool-Down and Meaning Making
Class participants are encouraged to move at their own level of comfort and ability. Variations and modifications to all movement explorations will be happily provided as needed to participants who request them.
Class Instructors:
This community class is facilitated by Kendall Grzyboski, MA, R-DMT, who is an MA Counseling Extern Practitioner and Clinical Mentor as well as the Full Circle Program Coordinator. She has a Master of Arts in Dance/Movement Therapy and Counseling from Antioch University New England and is a Registered Dance/Movement Therapist (R-DMT). She is also a dancer and a lover of movement and the expressive arts therapies and looks forward to making this experience both meaningful and acessible to longtime fans and newcomers alike.
More Information:
Cancellation and Refund Policy:
We hope you will be able to attend your community class after you register, but we also understand that life can present many complications and challenges that are sometimes unavoidable. If you register for a training and discover later that you will be unable to attend, please take a look at our Cancellation and Refund Policy to see what your options are, then let us know what you'd like to do. Here is a link to the policy: http://www.noeticus.org/Cancel_and_Refund_Policy.html
Approved Continuing or Professional Education Provider Information:
Noeticus Counseling Center and Training Institute has been approved by NAADAC as an Approved Education Provider (AEP, #151584) and by NBCC as an Approved Continuing Education Provider, ACEP #6704. Programs that do not qualify for NAADAC or NBCC credit are clearly identified. Noeticus Counseling Center and Training Institute is solely responsible for all aspects of the programs. Because this class is designed for the public and not for mental health professionals, it does not meet the requirements for continuing education and therefore does not provide them.
Date and Time
Location
Noeticus Counseling Center and Training Institute
190 E 9th Ave
Suite #310
Denver, CO 80203