NOETICUS: Couples Clinic: Hold Me Tight™ Couples Classes - 2018
Description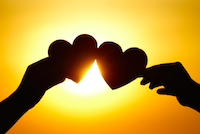 Couples Clinic:
Hold Me Tight™ 8-Week Program for Couples Supporting Conversations for Connection
"Love has an immense ability to help heal the devastating wounds that life sometimes deals us. Love also enhances our sense of connection to the larger world. Loving responsiveness is the foundation of a truly compassionate, civilized society." - Susan M. Johnson, EdD

Class Information:
Facilitator(s): Ryan Kennedy, PsyD, LMFT and the Center for Relational and Family Wellness (CRFW) Team
Dates: 8 Week

Classes

; Beginning Wednesdays on:

February 7, 2018
May 2, 2018
August 1, 2018
November 7, 2018

Time: 6:00 pm - 7:50 pm (2.0 Contact Hours)
Where: Noeticus Office; 190 East 9th Avenue, Suite #310; Denver CO 80203
Cost: $540.00 Couple Standard Fee ($45.00 per class); Free Will Offering / Pay What You Can Afford Option Available
Contact Hours: 2.0 Contact Hours per Class; 16.0 Contact Hours Total
Registration: Pre-Registration Required for Attendance
Size: Limited to 5 Couples; Please Register Early to Ensure Placement
Class Description:
Couples Clinic is a community class for new and long-term couples based on the scientific understanding of how stable connections in relationship are fostered or threatened over time, a system that was developed by Dr. Susan M. Johnson, author of Hold Me Tight: Seven Conversations for a Lifetime of Love. These concepts have been extensively supported by robust research and seen to be effective in the clinical practice of what has been termed Emotionally Focused Therapy or EFT. The core elements of EFT frame the first week of this class, which focuses on the new science of love and what it teaches couples. The next seven weeks help couples explore and strengthen the seven key conversations for couples to have with one another that are presented in the Hold Me Tight book.
EFT sees the essential problem of relationship difficulty arising from the loss of secure or trusted emotional connection between partners followed by a cycle of negative and destructive interactions that both cause and continue the original problem. From this perspective, "compelling emotional signals that are meant to pull a partner closer or reduce conflict, become distorted and shaded with criticism, anger, and apparent indifference" (Facilitator's Guide, p. x). The Couples Clinic class teaches relationship partners how to recognize this negative cycle and transform it through generating new emotional experiences that foster secure connection and satisfy the need for Accessible, Responsive, Engaged interactions with one another (i.e. A.R.E. you there for me?)
The Couples Clinic class is taught in an engaging and interactive style combining lecture, video, group discussion, role-play, art, journaling, non-verbal communication, and more. Couples can work privately as well as have opportunities to share with and learn from one another. All of our classes are taught by members of our Center for Relational and Family Wellness (CRFW), which include graduate-level counselors or interns with specific training in relationships and couples counseling, group facilitation, and family systems. In addition, our lead instructor has taken specialized training in Emotionally Focused Therapy (EFT) and is an authorized facilitator of the Hold Me Tight™ curriculum offered through the International Centre for Excellence in Emotionally Focused Therapy based in Ottowa, Ontario, Canada.
Class Objectives:
Couples Clinic provides an open, engaging, and non-judgmental place for couples and class members to learn and practice new skills while receiving important support and feedback from class facilitators, their partners, and other class participants. Through psycho-education and practice, couples learn:
How to better understand romantic love and the pivotal moves and moments that define a relationship
Ways to better understand their own and their partner's emotional responses and needs
Strategies to describe and control negative interactions or spirals that create pain and distance
Methods for shaping the positive moments of reaching and responding that create a secure bond with their partner
Each 16.0-hour community class series begins with introductions of the couples attending and an overview of the essential EFT concepts and practices that frame the class. This is followed by facilitated opportunities for couples to work together privately on developing their own "conversations for connection" skills. Class participants are encouraged to ask questions and bring relevant information from their own relationship experiences to the experience. This community class is for couples of all types who want to learn more about how to create and maintain long-lasting, loving partnerships. Our more structured relationship success community classes, Jump Start: Tools for Relationship Success and Jump Start Express: One Day Relationship Success Program, serve as excellent preparation activities for our Couples Clinic: Hold Me Tight™ Program for Couples Supporting Conversations for Connection, but are not required in order to attend.
Class Instructors:
This community class is facilitated by Ryan Kennedy, PsyD, LMFT, along with other members of the Center for Relational and Family Wellness (CRFW) counseling team. Ryan is a Licensed Marriage and Family Therapist, a Clinical Member of the American Association for Marriage and Family Therapy, an authorized SYMBIS Facilitator, an authorized Prepare/Enrich® Facilitator and Trainer, and an Independent Facilitator of Love and Logic® Curricula. He has trained in multiple approaches to working with couples including Emotionally Focused Therapy (EFT), the Pragmatic/Experiential Method of Improving Relationships (PEX), Satir Transformational Systemic Therapy (STST), Dialectical Behavior Therapy for Distressed Couples, and the Gottman Method of Relationship Therapy. He also has extensive experience in working with couples and families of all types and brings with him a wealth of knowledge in attachment theory, recovery from addiction and trauma, as well as understanding and supporting healthy child and adult development.
Class Text:
The Couples Clinic Community Class draws from the book, Hold Me Tight: Seven Conversations for a Lifetime of Love, by Sue Johnson, EdD. Class participants are encouraged to purchase and become familiar with the book ahead of time and to bring it with them to the class as a resource. The book is available HERE as well as many other booksellers.
More Information:
Contact: Ryan Kennedy, PsyD, LMFT; Program Manager
Email: couples.clinic@noeticus.org
Phone: 303-399-9988 x 604
Cancellation and Refund Policy:
We hope you will be able to attend your community class after you register, but we also understand that life can present many complications and challenges that are sometimes unavoidable. If you register for a training and discover later that you will be unable to attend, please take a look at our Cancellation and Refund Policy to see what your options are, then let us know what you'd like to do. Here is a link to the policy: http://www.noeticus.org/Cancel_and_Refund_Policy.html
Approved Continuing or Professional Education Provider Information:
Noeticus Counseling Center and Training Institute has been approved by NAADAC as an Approved Education Provider (AEP, #151584) and by NBCC as an Approved Continuing Education Provider, ACEP #6704. Programs that do not qualify for NAADAC or NBCC credit are clearly identified. Noeticus Counseling Center and Training Institute is solely responsible for all aspects of the programs. Because this class is designed for the public and not for mental health professionals, it does not meet the requirements for continuing education and therefore does not provide them. A Certificate of Attendance will be provided to all class participants.