Nodejs/mongodb/redis Hackathon

Friday, December 16, 2011 at 5:15 PM

-

Saturday, December 17, 2011 at 8:00 PM (EST)
Event Details
Montreal nodejs, mongodb, redis Christmas hackathon
Node.js fans, rejoice! Come Aug 17th to a full day hackathon where you will get to build a web app with nodejs, mongodb, and redis. 
Beginners are welcomed: we are also organizing a full 3 hours workshop the day before the event, where you will get a crash course on node.

Schedule
- Friday Aug 16th: Workshop
    5.30pm: registration + drinks
    6.00pm: Presenter, nodejs and Joyent
    6.15pm: Olivier Melcher, mongodb 101
    6.30pm: Christian Joudrey, fringedev: "Building your first Node app with Express"
    6.45pm: Presenter 3
    7.00pm: Scaling and deploying with node
 We will have then the workshop, Q&A, help setting up modules, setting up dev environment, up until 9.00pm
 
- Saturday Aug 17th Hackathon
    9.00am: breakfast with tasty bagels!
    9.30am: hackathon begins
    12.00: lunch
    5.30pm: hacakthon ends, each team or individual presents
    6.30pm: each judge give technical review of each project. The winner (or winning team) gets a $300 gift card from Futureshop.

Judging
We have 3 expert judges who will each provide thoughtful feedback on your day's work
Logistics
Coffee, food and beer will be provided during the workshop and the hackathon. Notman House will provide the space and also wireless. A will provide hosting.. Just bring your laptop!

Web Applications
Entries should be publicy accessible web applications. It's hard for judges to fairly evaluate entries that require compilation or setup. Extra points will be given to applications with the code available on github.

Web services, APIs, Libraries
We encourage use of third-party web services and their APIs (e.g. Facebook, twitter, Google maps, Montreal open data). Everyone loves mashups.
Libraries and modules that are freely available are allowed and encouraged. During judging, please list all libraries that you use to give credit.

Ownership and Open Source
The code you write is yours. If you intend to share it after the competition, you can pick whatever license you love. We encourage contestants to open source their code, but it's totally up to you.

Sponsors
This event has been made possible thanks to the generous support of sponsors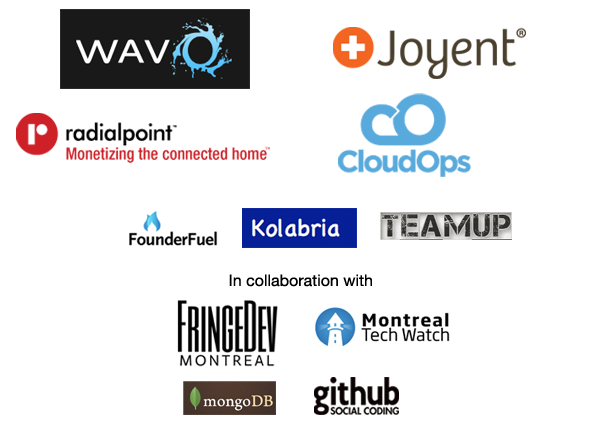 Credits
Organizers: Heri, MontrealTechWatch
Made in special collaboration with FringeDev 
Thanks: NotmanHouse for hosting the event


Attendee List
Sort by:

Date

|

First Name
When & Where

Notman House
51 Sherbrooke west
Montreal
Canada

Friday, December 16, 2011 at 5:15 PM

-

Saturday, December 17, 2011 at 8:00 PM (EST)
Add to my calendar
Organizer
We connect the best hackers to great startups