Description

Learn Node.js, Express and more in a weekend! This course is an efficient way to add server side JavaScript to your skill-set and start building robust cutting edge applications!
Whether you are a manager looking for training to get your team up to speed with Nodejs or an individual that would prefer to learn Node.js in a way that is more interesting than reading books or watching boring videos, this intensive 2 day training will give you the knowledge to design, build and debug applications using the Node.JS!
The fundamentals and advance application of Node will be covered. We will explore the design choices that make Node.js unique, how this changes the way applications are built and how systems of applications work most effectively in this model. You will learn how to create modular code that's robust, expressive and clear. Understand when to use callbacks, event emitters and streams.
Don't be siloed at home or your office watching boring training videos. A live, instructor-led training environment is enjoyable and a GREAT way to networking and even learn from your peers.
Course Outline
Introduction and Installation
Installation

What is Node.js?

What's new in Node 8?

V8

nvm & nvm-windows
Modern JavaScript
Array methods

let and const

Template strings

Arrow functions

Default parameters

Destructuring

Spread operator

Class

Convenience features
REPL and CLI
Node version

Enter and exit the REPL

Evaluating expressions

Assigning variables
HTTP and Web Servers
Core Modules

Process

A simple web server
Heroku
Signup

Heroku CLI

Heroku dashboard

Deployment

Log files
Streams
Stream consumers

Flowing vs paused

Readable

Writeable

Duplex

Transforms
Express
Middleware

Static server

Pug

File Upload
Authentication and Authorization
Terms

Passport

Simple authentication

OAuth
RESTful API
MongoDB and Mongoose
Setup

mLab

Connection Strings

Queries

REST + CRUD
File System
POSIX

Windows

Reading a file

Writing a file
Socket IO
Installation

Creating a connection

A simple chat app

Streaming a file
Unit Tests
Jasmine

Creating Test Suites

Executing Tests
Who is This Class For?
This course is for the intermediate developers looking to build powerful web applications using Node JS and it's associated technologies.
Pre-requisites
Attendees should have at least an intermediate knowledge of JavaScript. They should be familiar with web server application design concepts (such as accessing databases and SOA concepts), as well as basic HTML and CSS.
Requirements & Development Environment
Participates should bring a laptop/notebook computer. Mac or PC with any modern web browser installed and working wi-fi. The instructor will provide any additional direction for environment preparation in class.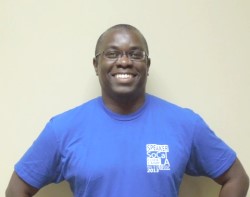 Instructor, Troy Miles
Troy Miles is a Software Engineer and instructor. He is exceptionally skilled at full stack. He posses deep knowledge of the following frameworks: AngularJS, jQuery, jQuery Mobile, PhoneGap, Backbone, Ember, Jasmine, and Mocha