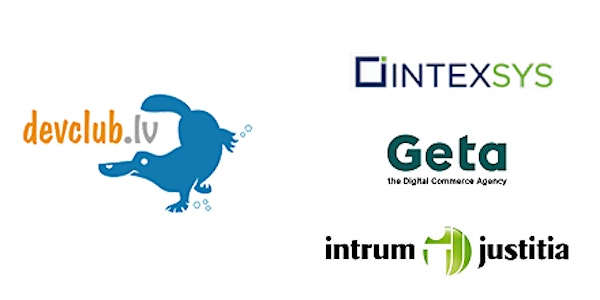 Node.js focused 45th DevClub.lv
When and where
Location
Browser Cafe Blaumaņa iela 3 Riga Latvia
Description
Hi!
Let's rise quite a familiar topic to the new heights!
We will talk about Node.js and how to do real-time things with it in your project. We will also try to get an answer to the question "why its good to build your framework?" If it still did not convince you, how about that - this time, we will be in an entirely different but very cool place - Browser Cafe.
Please pay attention that this time we meet at Blaumaņa iela 3 - Browser Cafe at 21st July 18:30.
Agenda for Node.js focused 45th DevClub.lv:
Sergey Grib Team architect from Intexsys will give a talk "Building real-time auction with Node.js, Socket.io & RabbitMQ "
In the talk, we'll share our experience in building and scaling real-time bidding system for an auction site with huge load spikes, which now handles hundreds of simultaneous bidders. We'll talk about implementing bid propagation through Socket.io, handling various issues, tracking statistics and stress-testing the system.
(Language — Russian)
Tags: real-time, Node.js, Socket.io, RabbitMQ
Sergey is in Web software development since 2005, has master degree in computer science. Currently working as Software Architect at Intexsys. His main focus is E-commerce projects and business management systems for mid and large size clients. Technology-wise, Sergey is mostly working with PHP, Symfony2, ElasticSearch, NodeJs and RabbitMQ.
Jānis Gruzis from Kotique will give a talk "Real-time communication with Node.js"
In this talk Jānis will talk about real time application in Node.JS and the technologies that help to implement them - Socket.IO, Express.JS.
(Language — Latvian)
Tags

: real-time, Node.JS, Socket.IO, Express.JS, JavaScript
Jānis has finished LU computer science faculty. Has worked on large scale international projects as a senior developer with real-time components. Contributes into young people education by leading KJPS school and creating systems for improvement of programming education in Latvia.
Danko Aleksejevs from VeryPositive will talk about their new isomorphic real-time JavaScript framework Headland for web and mobile apps, why it was made and how it's different from the thousands of JS frameworks out there.
(Language — English)
Tags: Headland, JavaScript, Node.js, Real-time, Web, Cordova
Danko co-founded VeryPositive in 2006 and has coordinated the development of many large-scale web applications since then. VeryPositive have often been the early adopters of new technology and now they're looking for early adopters themselves.
Intrum Justitia is looking for:
- Qlikview Developer
- System Analyst (in Sweden)
- Front-End Developer
Our new sponsor Geta Digital is a international Digital Commerce Agency with offices in Norway, Latvia, Sweden, Netherlands and the U.S.
They are looking for
- .NET Web Developers
- Front-end Developers
- Test Engineers
Intexsys is looking for:
- PHP Developers
- Front-end Developers
- Senior Android Developer
We promise - it will never be boring!
Thanks to our sponsors we are able to make DevClub.lv events and have drinks and snacks: