NOCERAL Annual Orthopaedic Research Seminar and Workshop
Event Information
Refund Policy
Refunds up to 7 days before event
Description
NOCERAL annual orthopaedic research seminar and workshop combined with ASEAN Orhopaedic Research Section / Asia Pacific Orthopaedic Research Society And Malaysian Orthopaedic Association
Orthopaedic Seminar / ELISA workshop
DEC 14 -

Orthopaedic Research Seminar
DEC 15 - ELISA Workshop
---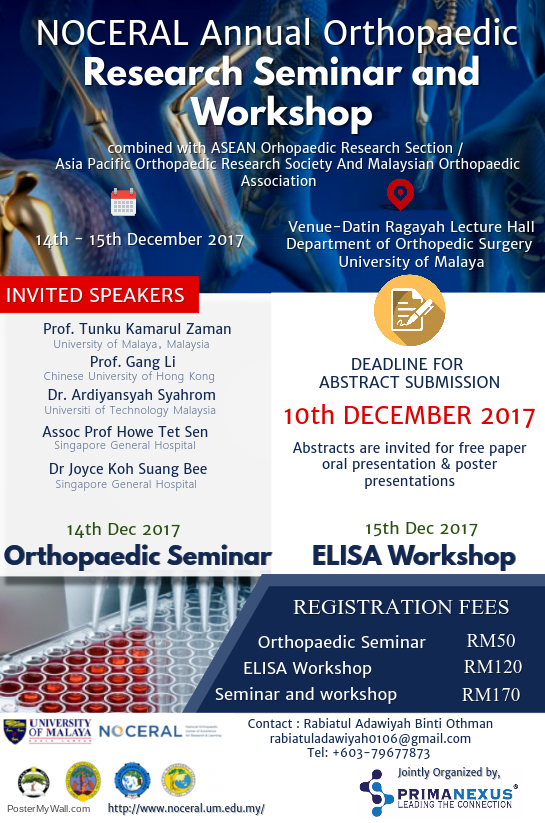 The seminar on 14th December 2017 is targeted at orthopaedic surgeons. This event will present the platform to discuss on latest innovations, advances in surgical techniques, current trends and challenges in orthopaedic practices. Abstracts are invited for free paper oral presentation & poster presentations from persons conducted relevant orthopaedic research. Abstract should be in 250 words, Times New Roman, font size 12. Deadline for abstract submission is before 10th December 2017. All abstracts will be reviewed by the Scientific Committee and the select abstracts will be intimated for oral/poster presentation. Oral presentation will be for 10 minutes. The work on the submitted abstract has to be original and must not have been published previously. Abstracts can me emailed to - rabiatul_adawiyah@um.edu.my. Cash award will be provided for the best paper presentation.


The ELISA workshop on 15th December 2017 is targeted at students, scientists and orthopaedic surgeons involved in basic research. The workshop will provide knowledge and insights in performing ELISA technique and trouble shooting.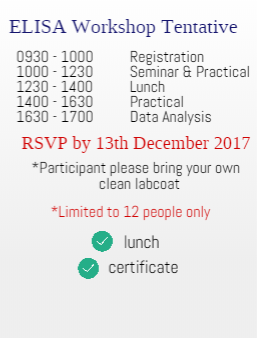 REGISTRATION FEES
Orthopaedic Seminar RM 50
ELISA Workshop RM 120
Seminar and workshop RM 170
The registration fee includes the following:
1) Lecture sessions
2) Registration kit
3) Lunch
4) Refreshments during break time. The participants will be awarded certificate of participation.
Organizing committee
Assoc. Prof. Murali Malliga Raman
Assoc. Prof. Balaji Raghavendran
Co-ordinators
Dr. Chong Pan Pan
Dr. Tan Sik Loo
Dr. Nam Hui Yin
Event Organizer
Rabiatual Adawiyah
*To get your ticket, please click on the TICKET button