Author Book Launch Celebration: Nobuko Miyamoto's new memoir, "Not Yo' Butterfly : My Long Song of Relocation, Race, Love, and Revolution"
About this event
Join us for this celebration of a mold-breaking memoir of Asian American identity, political activism, community, and purpose by Nobuko Miyamoto (known once as Chris and Joanne/Nobuko singing group in 1970)
This event is co-sponsored by Eastwind Books of Berkeley, J-SEI, and UC Berkeley's Asian American and Asian Diaspora Studies Department. The event will also be live-streamed on Facebook: https://www.facebook.com/eastwindbooksberkeley
[Purchase a copy of Not Yo' Butterfly here] On Special $27 with Nobuko Miyamoto's autographed book plate
Not Yo' Butterfly is the intimate and unflinching life story of Nobuko Miyamoto—artist, activist, and mother. Beginning with the harrowing early years of her life as a Japanese American child navigating a fearful west coast during World War II, Miyamoto leads readers into the landscapes that defined the experiences of twentieth-century America and also foregrounds the struggles of people of color who reclaimed their histories, identities, and power through activism and art.
Miyamoto vividly describes her early life in the racialized atmosphere of Hollywood musicals and then her turn toward activism as an Asian American troubadour with the release of A Grain of Sand—considered to be the first Asian American folk album. Her narrative intersects with the stories of Yuri Kochiyama and Grace Lee Boggs, influential in both Asian and Black liberation movements. She tells how her experience of motherhood with an Afro-Asian son, as well as a marriage that intertwined Black and Japanese families and communities, placed her at the nexus of the 1992 Rodney King riots—and how she used art to create interracial solidarity and https://j-sei.org/about/conciliation.
Through it all, Miyamoto has embraced her identity as an Asian American woman to create an antiracist body of work and a blueprint for empathy and praxis through community art. Her sometimes barbed, often provocative, and always steadfast story is now told.
Nobuko's book celebration will include friends and family, photos and music. We are grateful to Third World Newsreel for permission to use a clip from the1971 NYC housing struggle film, Break and Enter.
Announcing Author Nobuko Miyamoto's New Album, 120,000 Stories. Smithsonian Folkways has just announced artist and activist Nobuko Miyamoto's new album, 120,000 Stories. The album released January 29th.
*AUCTION FROM JUNE 5-JUNE 12, 2021* ORIGINAL 1973 GRAIN OF SAND VINYL 33rpm / Fundraiser for Eastwind Books of Berkeley
Starting bid is $150. Tax deduxtible. For the auction link, click here.
A GRAIN OF SAND - Music for the Struggle by Asians in America. Condition is used and in NEW condition. Music sheet included, which has paragraph explanation of the political context of each song.
Artists: Chris Kando Iijima, Nobuko Miyamoto, Charlie Chin
Release year: 1973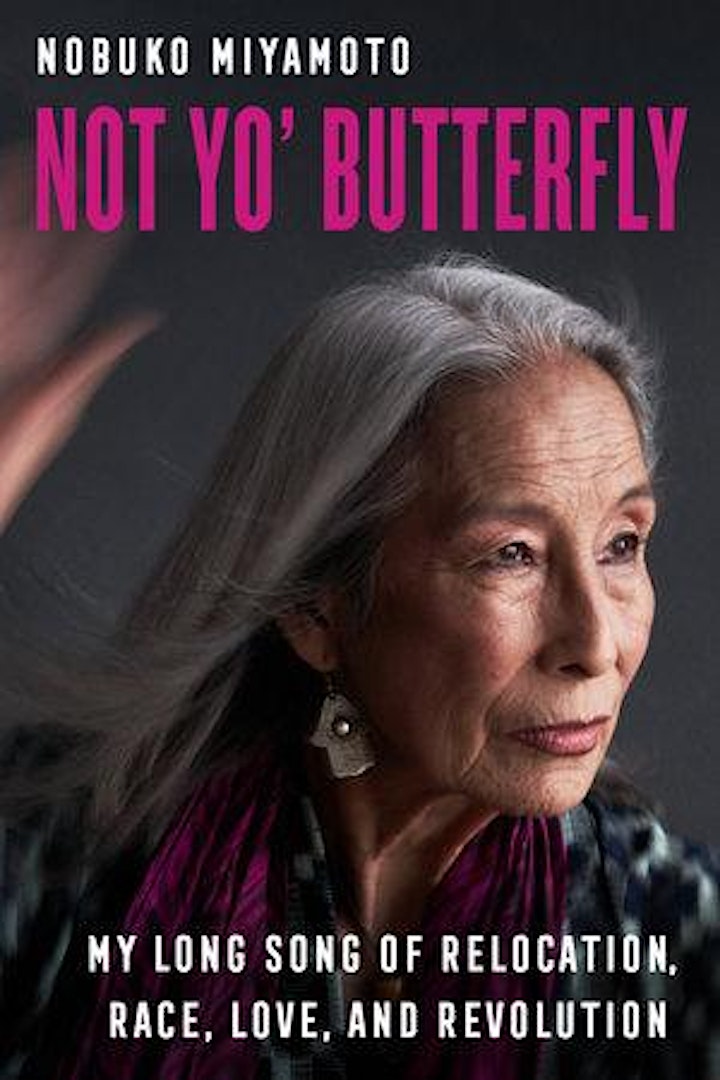 Organizer of Nobuko Miyamoto Book Launch Celebration: Not Yo' Butterfly
Eastwind Books of Berkeley has been serving the public providing books on Asian American diverse cultures, Ethnic Studies, history, and literature since 1982. Celebrating more than 20 years in Berkeley, Eastwind Books of Berkeley has provided the public with meaningful and relevant books for our times. Eastwind supports and promotes various authors at book events including: The Forbidden Book: The Philippine-American War in Political Cartoons, Other: An Asian Pacific Islander Prisoners Anthology, and Palestine...it is something colonial. Visit us in-store at 2066 University Avenue, Berkeley or online at www.asiabookcenter.com.