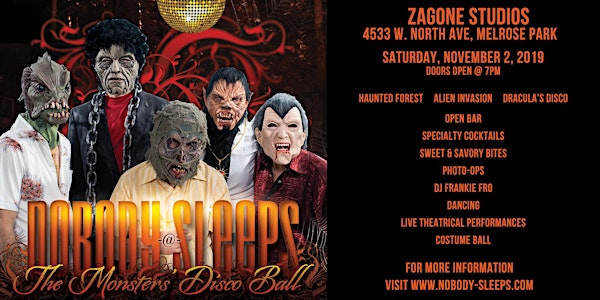 Nobody Sleeps at The Monsters' Disco Ball!
When and where
Location
Zagone Studios - The Monster Factory! 4533 West North Avenue Melrose Park, IL 60160
Description
For one Far out Eve, get ready to Raise the Dead and get them to our Monster Disco Costume Party!
Only Jive Turkeys are going to miss this Costume Dance Party so get out of your crib and into our Crypt, Frankie Fro, Drac, All wrapped Up, Fish Face and Wolfy invite you to their crib The Monster Factory, Zagone Studios.
Don your Old School Monster Costume, platform shoes and cuffed bell bottoms and get your friends ready to Boogie Down!!
Take a Two Headed Monster Selfie with our Alien invaders, Zombie strut through the Haunted Forest while munching on a few tasty morsels. Drink from the Witches' Elixirs, have our Gypsy's foretell your future… as you fall under our Witches' Spell. Then join the rest of the ghouls for the Hustle on Dracula's Disco Dance Floor. Don't leave your cake out in the rain, Get Down to Disco and Pop Hits from the 70's as we trick or treat you for a night where Nobody Sleeps!
"Can you dig it? Nobody Sleeps at The Monsters' Disco Ball! Nobody!" - The Wolfman, PS. his hair was perfect!!
"I can't wait to dance the "Bus Stop and Bump" in my finest "Dynomite" Disco Clothes!" - Count Dracula
https://youtu.be/wW042WeaVME