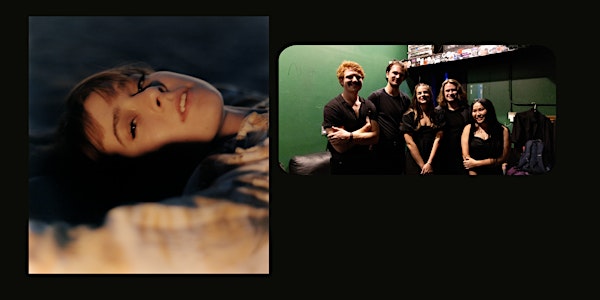 Noah Vonne Little Escape Tour with special guests Hello Darling
Noah Vonne Little Escape Tour with Hello Darling
When and where
Location
The Evening Muse 3227 N. Davidson Street Charlotte, NC 28205
Performers
Headliners
More Performers
About this event
Raised in the musical heartland of Texas, Noah Vonne forged an original sound that blends elements of rock, soul, blues, and pop. From an early age, the New Braunfels native drew upon the likes of Janis Joplin, Sara Bareilles, Brandi Carlile, Alicia Keys, Joss Stone, Joan Jett and Ella Fitzgerald — each of these powerful women can be heard within the expressive ripples of Vonne's vocal delivery.
"My influences range quite a bit," she admits, "but I've always been drawn to female powerhouses. They carry so much kindness alongside their incredible talent."
In 2018, Vonne embarked on a journey across the world as lead singer of a group that performed three shows daily on Celebrity Cruise Line's newest ship, The Edge. After returning to the United States in 2019, she hit the ground running as direct support for Shawn James on the national The Dark & The Light Tour. Soon after, Vonne followed up with the release of two inventive singles, "LOVE MOVE" and "RnR", each released ahead of the Love Move EP in June 2020.
In October 2020, Vonne premiered the official music video for her critically acclaimed single "SUNSET INN". With the help of veteran producer Jimmy Messer, Noah is preparing for the debut of her first full length LP, written and produced in her new home of Southern California.
Facebook | Spotify | Instagram
**********
Hello Darling is a Nashville Indie Folk outfit fronted by Grace Russell and Patrick Armould. The two artists met at Lipscomb University in 2020. By that point both Russell and Armould had extensive touring experience with different projects. Russell had a solo songwriting career mentored by many of Nashville's veteran writers while Armould fronted Halleway, a Folk Rock band out of Denver. For this dynamic duo, writing songs together was serendipitous. In just a few months, the project took on a new life when band members: Riley O'Donnell, Amber Sawyer, and Noah Haggard joined the creative endeavor. The fall of 2020 saw the release of their debut EP which received critical acclaim. Indie Music Center wrote, "Hello Darling isforging a straight road to success with their incredible vocal harmonies and flawless writing". In2022, they embarked on their first headlining tour and in the same year made notable supporting appearances opening for bands like the 502s, Dylan Leblanc, The Ballroom Thieves ,Will Hoge, and more of the country's prolific touring acts.