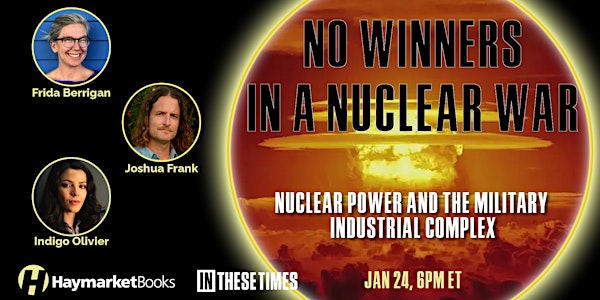 No Winners in Nuclear War: Nuclear Power & the Military Industrial Complex
Join a panel of authors and activists to discuss the dangers of nuclear power and nuclear war for the release of Atomic Days.
Refund Policy
Contact the organizer to request a refund.
Eventbrite's fee is nonrefundable.
About this event
Joshua Frank's Atomic Days is an urgent look at the dark side of nuclear power. Hanford Nuclear Reservation, once the United States' largest plutonium production site, is now designated the most toxic place in America. We can't afford inaction: an accident at Hanford could make Chernobyl pale.
Joshua will be joined by peace activist Frida Berrigan and reporter Indigo Olivier for a discussion on nuclear proliferation and the antiwar movement. Frida's recent article, "The End of the World is Back: Why We Need a New Generation of Nuclear Abolitionists" calls on us to join the fight for nuclear disarmament. The world as we know it is at stake.
Buy Joshua's book, Atomic Days: https://www.haymarketbooks.org/books/1940-atomic-days
***Register through Eventbrite to receive a link to the video conference on the day of the event. This event will also be recorded and live captioning will be provided.***
Speakers:
Frida Berrigan is community activist and urban gardener living in New London, CT with her husband, three kids and six chickens. She is the author of It Runs In The Family: On Being Raised By Radicals and Growing Into Rebellious Motherhood (OR Books, 2015). Her writing appears regularly at TomDispatch.com and Waging Nonviolence.
Joshua Frank is an award-winning California-based journalist and co-editor of the political magazine CounterPunch. He is a co-author of several books, including The Big Heat: Earth on the Brink (AK Press) and Atomic Days: The Untold Story of the Most Toxic Place in America (Haymarket Books), which examines the ongoing environmental and human turmoil of the Hanford Nuclear site in Washington state.
Indigo Olivier is a reporter-researcher at The New Republic. Her writing on politics, labor, and higher education has appeared in The Guardian, The Nation, Jacobin, and In These Times, where she is a former investigative reporting fellow.
-----------------------------------------------------------
This event is sponsored by Haymarket Books and In These Times. While all of our events are freely available, we ask that those who are able make a solidarity donation in support of our important publishing and programming work.