Description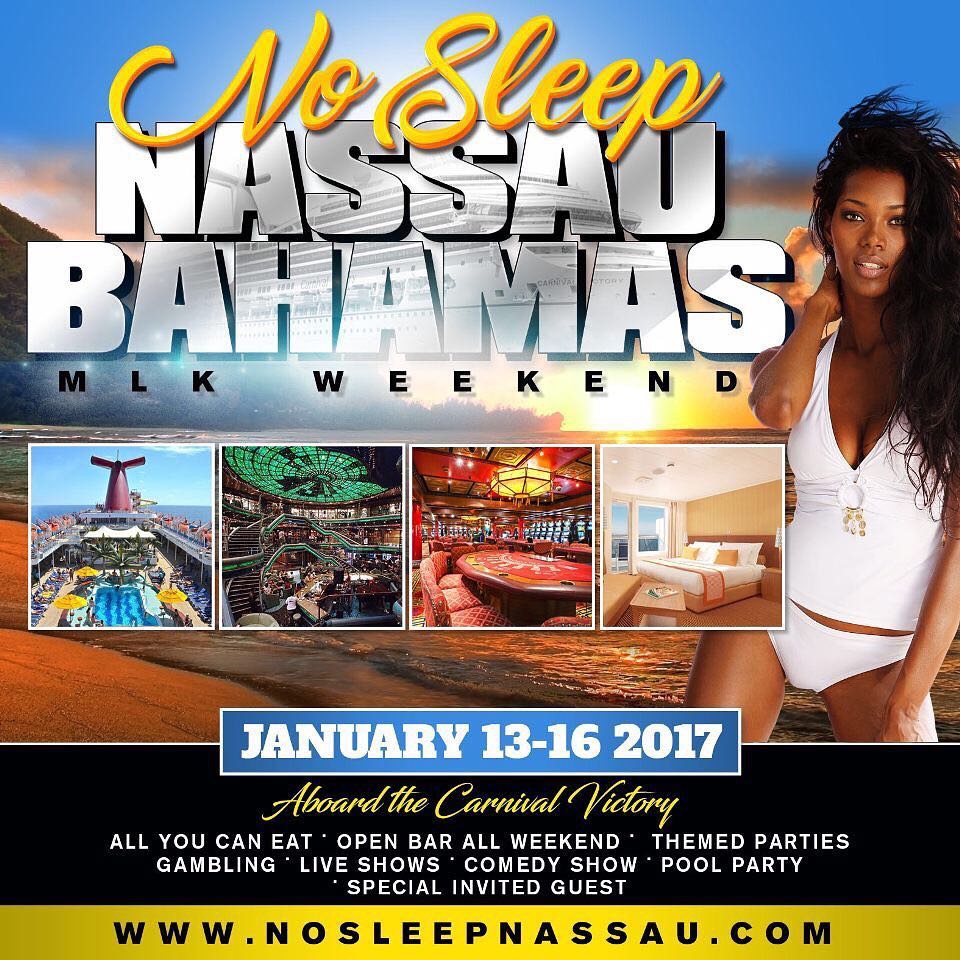 No Sleep Nassau, Bahamas 2017
Do you feel the warm sun? Smell the ocean? Now open your eyes. Still sitting behind that desk? I know you wish this was your reality. Guess what? It can and it will. Time to plan your ultimate weekend getaway. No Sleep Nassau 2017 is coming January 13-16, 2017!!! Parties, Themed Events, All You Can Eat Food, Drinks, Fun, Beach Parties, Gambling,Excitment, No Passport Required, but a copy of your birth certificate will be!!

You'll find a vacation fit for a champion aboard Carnival Victory During No Sleep Nassau Weekend .
Declare victory against the ordinary as you sit back and take in what this incredible cruise ship has to offer: amazing performances in the two show lounges, quiet time at Serenity Adult-Only Retreat… plus delicious food and drink all up and down the ship. While a magician may keep an audience wondering how they did it, Alchemy Bar lets you get right up close as our cocktail-crafters work their magic with absolutely nothing up their sleeves. And SKYBOX Sports Bar combines the comfort of its high-above-it-all namesake with the sort of view you'd get down low on the 50-yard line, whether you're catching a live game on the big screen or getting into a game yourself, controller in hand.
Don't miss the winning atmosphere of the South China Sea Casino — try your hand at poker, blackjack, roulette, or craps. Little winners will love Virtual Sea Arcade and play-time opportunities at one of three youth-only spaces. And for an open-air experience that brings out the champion in everyone, there's miniature golf, ping pong, a jogging track and more.
When you're cruising Carnival Victory, one thing is for sure: you're winning.
Thank You-
No Sleep Nassau Team